The Food Safety Modernization Act became law in 2011. This food-safety legislation expanded existing FDA powers in an effort to shore up safety for the entire U.S. food supply — including wines and wine-derived products.
This latest round of FDA updates creates new responsibilities for operators of wineries, vineyards, and supply chains. The legislative environment hasn't changed for wine producers as much as it has for, say, a meat-packing plant. The good news is that food-safety specialists consider wine a low-risk product. However, there are parts of the FSMA that apply to wineries.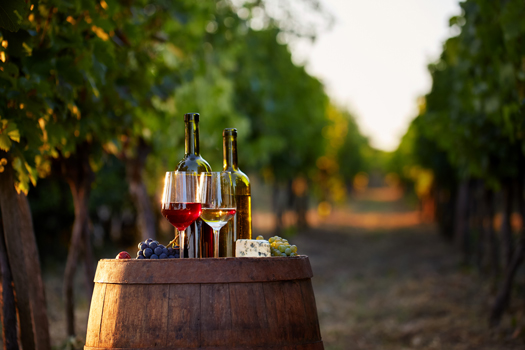 The key to understanding the FSMA's impact on the wine industry lies within a specific part of FDA law: 21 CFR Part 117, Current Good Manufacturing Practice, Hazard Analysis, and Risk-based Preventive Controls for Human Food. Under the FSMA, rules that used to be non-binding are now required by law. Subparts of this law include:
Setting aside the issue of grapes grown for anything other than pressing into wine for now, take a winery that only produces wine and other alcoholic drinks. These facilities, which are regulated by the U.S. Treasury Department's Tobacco Tax and Trade Bureau (TTB), are exempt from the following two subparts of the Current Good Manufacturing Practice (GMP):
Subpart C: Hazard Analysis and Risk-Based Preventive Controls. This rule requires food processors to maintain an official written plan for food safety; wineries do not have to do this.
Subpart G: Supply-Chain Program. Similarly, Subpart G instructs food producers to create and run a supply-chain program designed to keep raw materials and ingredients safe during transport to the receiving facility. Again, wineries are exempt from this requirement.
Despite these exemptions, new rules under the FSMA do require changes to the daily operation of most wineries and vineyards. Two of the biggest changes is the addition of legally binding rules about maintaining detailed records and providing staff training on food safety.
Wineries as Qualified Facilities under the FSMA
Some wine producers are exempt from larger parts of the FSMA GMP rules. These include "Qualified Facilities" and "Very Small Businesses." Wineries can be designated Qualified Facilities if they meet the following requirements:
Annual sales are less than $500,000.
More than half (at least 51 percent) of food sales (including wine; we'll get to the legal definition of "food" in the following section) goes either direct to consumers, as in the case of a restaurant/winery, or to other local restaurants and retailers. Local, in this sense, is defined as in-state or within a radius of 275 miles.
In order to register as a Very Small Business, the winery must meet the following
qualifications:
Average annual sales of $1 million for each year in the preceding three.
Products sold in the above estimation must be human food.
Add to sales of human food the total market value of human food the facility manufactures, packs, processes, or holds for a fee from another producer.
Classification as a Qualified Facility (including qualification through Very-Small-Business designation) does not release wine producers from food-safety responsibilities and some reporting requirements. Qualified Facilities still need to officially notify the Food and Drug Administration (FDA) of their special status. The operators must also report to the FDA that their facilities comply with local (that is, non-federal) food-safety rules. They also need to inform consumers of the winery's full name and business address.
Finally, the FDA requires Qualified Facilities to keep records on how they qualify for the special status. These records must be legible, original, and available for at least two years from the date of their creation. Every two years, facilities must renew their registration through the above-mentioned reports and attestations.
Food-Safety Education and Training for Wineries under the FSMA
Wineries that don't meet the requirements of a Qualified Facility or Very Small Business are exempt from Subparts C and G of the legislation — but they must still comply with Subparts A, B, and F. The first of these describes the qualifications required by all staff who "manufacture, process, pack, or hold food."
Note that the legal definition of "food" comes from Title 21, Chapter 9, Subchapter II, under the Federal Food, Drug, and Cosmetic Act. That is, "The term 'food' means (1) articles used for food or drink for man or other animals, (2) chewing gum, and (3) articles used for components of any such article."
Wine is clearly an "article used for...drink…," so wineries can't escape the requirements listed under Subpart A of 21 CFR Part 117. The law discusses "qualified individuals," which leads directly to questions of education and training. Here's the legal definition of a "qualified individual" in the context of the FSMA:
Qualified individual means a person who has the education, training, or experience (or a combination thereof) necessary to manufacture, process, pack, or hold clean and safe food as appropriate to the individual's assigned duties. A qualified individual may be, but is not required to be, an employee of the establishment.
In addition, qualified individuals must "receive training in the principles of food hygiene and food safety, including the importance of employee health and personal hygiene…." The responsibility for ensuring staff (and others who handle wine) are qualified, and receive training, falls on the supervisor's shoulders.
Finally, winery leadership must document safety training and maintain those records. This brings us to the next big change the FSMA brings to winery management: documentation.
FSMA Documentation for Wineries
Unless they're designated as qualified facilities, wineries must comply with detailed record-keeping requirements under the FSMA. The bulk of these are found in Subpart F of 21 CFR Part 117, specifically in Sections 117.305 and 117.315. Here are some highlights:
Records can be kept electronically, as original printed copies, or as accurate reproductions (think photocopies, scans, and microfilm, for instance).
These reports must include values of observations during both monitoring and/or verification.
All records should include the name and/or location of the facility, plus relevant dates, signatures, and identifying information for the product and/or lot code, if any.
Observers should create the records while the studied activity takes place.
The FDA requires these reports to be accurate, legible, and permanent (at least for the period they must be kept).
Winery operators must keep food-safety records for at least two years following their creation.
Read the full text of the FDA reporting and documentation requirements at the link provided in the first section, under Subpart F.
Current Good Manufacturing Practice at Wineries
Unless a winery can be designated as a Qualified Facility, the facility must typically comply with Subpart B, which provides detailed rules for sanitary operation. These controls are generally grouped into the following categories:
Personnel. Employers must "take reasonable measures and precautions" to make sure employees aren't sick when they handle foods, and they have to provide means to ensure staff cleanliness. This might include protective outer clothing, hand-washing facilities, gloves, hair nets, or other sanitary interventions.
Facilities. Wineries themselves and the grounds on which they sit must be "kept in a condition that will protect against the contamination of food." This may include separating allergens, cutting back plants that might attract pets, and even skimming fermentation vessels.
Manufacturing Equipment and Tools. Food-contact surfaces must be "corrosion-resistant when in contact with food" and "be made of nontoxic materials and designed to withstand the environment." This explains the popularity of stainless steel for tools and machines in wineries and food-production environments. Stainless Steel Bin Tippers, for instance, allow employees to lift and empty large volumes of grapes and other ingredients at any point along the production process — all while helping to comply with FDA requirements.
Processes. Winemaking procedures must "be conducted in accordance with adequate sanitation principles," says the law. These include quality controls, suitable packaging, microbial testing, and robust equipment cleaning procedures.
To be sure, this summary is far from a comprehensive guide to complying with FDA standards for wineries in this post-FSMA environment. For that, you'll want to contact the appropriate legal authority. In the meantime, it might help to scan the language of the law itself; you can do that at the links in the first section.
Still, this article should make it clear that winery owners — even those who are exempt from the bulk of the legal requirements mentioned — must take action to ensure compliance with new laws under the Food Safety Modernization Act.
References:
"
href="https://www.accessdata.fda.gov/scripts/cdrh/cfdocs/cfcfr/CFRSearch.cfm?CFRPart=117" target="_blank" rel="noopener">CFR Title 21, Chapter 1, Subchapter B, Part 117: Current Good Manufacturing Practice, Hazard Analysis, and Risk-Based Preventive Controls for Human Food.
"
FDA
. U.S. Food & Drug Administration, 1 Apr. 2018. Web. 10 Dec. 2018. "
href="https://www.gpo.gov/fdsys/pkg/USCODE-2010-title21/html/USCODE-2010-title21-chap9-subchapII-sec321.htm" target="_blank" rel="noopener">CFR Title 21, Chapter 9, Federal Food, Drug, and Cosmetic Act, Subchapter II: Definitions.
"
GPO
. U.S. Government Publishing Office, 2010. Web. 10 Dec. 2018. "
href="https://grapesandwine.cals.cornell.edu/sites/grapesandwine.cals.cornell.edu/files/shared/FSMA%20Winery%20Flow%20Chart.pdf" target="_blank" rel="noopener">FSMA Winery Flowchart.
"
GrapesandWine
. Cornell University, n.d. PDF. 10 Dec. 2018. Kennedy, Shaun, Kaylee Errecaborde, and William Hueston. "
href="https://www.foodpolicy.umn.edu/policy-summaries-and-analyses/general-overview-food-safety-modernization-act" target="_blank" rel="noopener">General Overview of the Food Safety Modernization Act.
"
FoodPolicy
. Food Policy Research Center, University of Minnesota, Jun. 2014. Web. 10 Dec. 2018.
McKee, Linda. "How FSMA Will Impact the Wine Industry." WinesandVines. Wine Communications Group, Inc. Web. 10 Dec. 2018.