World Environment Day was created by the United Nations to encourage environmental action and awareness on a local, national, and even global level. Over 100 countries celebrate the eco-friendly day, which is tackling plastic pollution as its special project this year.
What is the world doing to stem plastic pollution?
The city of Seattle has passed legislation to ban plastic straws starting in July. Businesses will have to offer compostable or recyclable straws and utensils or not offer them at all. The aim is not just to reduce plastic in landfills, but, more specifically, to keep it out of the ocean. Many people have heard the sad stories of the Great Pacific Garbage Patch or the whale that had over 60 pounds of plastic in its stomach when it washed up on shore — these are painful reminders that plastic can take more than 500 years to decompose in the ocean.
Nudging businesses to make more environmentally friendly choices achieves the primary goals of reducing plastic waste and pollution. However, it also supports the companies making compostable products and raises awareness among the public that these eco-friendly choices are available.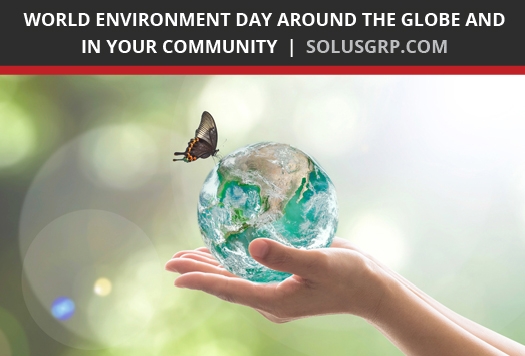 On the national level, Kenya is the most recent country to put an outright ban on plastic shopping bags. The African nation's legislation imposes a four-year jail sentence or $40,000 fine for producing, selling, or using a plastic bag. Additionally, there are more than 40 other countries that have banned plastic bags (though most have considerably more lenient penalties). These countries hope to eliminate the many problems that plastic bags cause from flooding to harmed wildlife.
France recently became the first country to require that all disposable tableware must be compostable. Businesses have until 2020 to make the changes, which will reduce plastic waste substantially in Europe's third most populous country.
These types of bans grew from small movements begun by environmentalists. Once awareness and feasibility reached a tipping point, lawmakers got onboard and enacted legislation.
Different parts of the globe face different challenges, but everyone can take steps that help the environment.
On an individual level, bringing reusable bags to the market and forgoing disposable water bottles in favor of reusable aluminum or plastic ones is a great start. If your neighborhood offers recycling services, be a good participant by sorting recycling properly. Never put plastic shopping bags into single-stream recycling as it causes major problems with their sorting (Most supermarkets have a collection bin for recycling shopping bags.).
If you live in an apartment complex or assisted-living facility, talk to your building manager about encouraging recycling. In communal settings, recyclables can add up fast, so you may need to lobby for assistive lifting devices, like manual or automatic trash can dumpers. Small improvements in awareness or collection practices can make a big difference in diverting recyclables from the landfill.
To get involved directly with World Environment Day, find a cleanup effort in your area. If you don't see one nearby, take the initiative to organize your own. A downloadable toolkit will give you ideas on how to organize and educate whether you're working for a business, government agency, or school. The road toward good environmental stewardship isn't easy, but it's well worth the effort.
References:
Cho, Renee. "Our Oceans: A Plastic Soup." State of the Planet. Earth Institute — Columbia University. 26 Jan. 2011. Web. 25 Apr. 2018.
Eastaugh, Sophie. "France Becomes First Country to Ban Plastic Cups and Plates." CNN. 20 Sep. 2016. Web. 25 Apr. 2018.
Elejalde-Ruiz. "Plastic Bags a Headache for Recyclers." Chicago Tribune. 30 Jul. 2015. Web. 25 Apr. 2018.
Lee, Jessica. "The Last Straw: Seattle Will Say Goodbye to Plastic Straws, Utensils With Upcoming Ban." Seattle Times. 8 Sep. 2017. Web. 25 Apr. 2018.
"What is World Environment Day?" World Environment Day — UN Environment. n.d. Web. 25 Apr. 2018.