Animal feed producers invest heavily in material handling equipment — particularly in systems designed for flowable materials. Ideally, grains and other flowable ingredients will remain within the automated line: Storage bins, conveyors, mixers, mills, crushers, pelleting machines, and, finally, baggers or other packaging systems.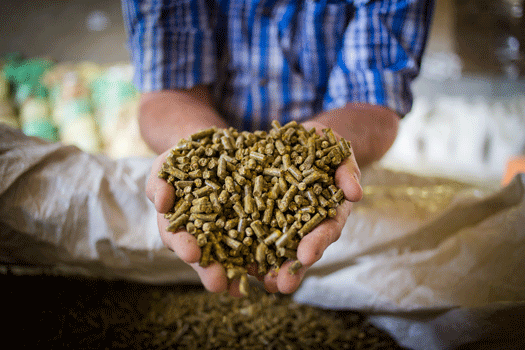 Of course, real life often introduces complications. What can animal feed producers do when they need to introduce flowable additives directly into mixers? What happens when a large store of grain spills over the edges of, say, a vibrating conveyor? How can we be prepared for bulk material handling in the feed mill when unexpected situations arise?
The answer isn't as simple as a team of workers with shovels, especially given the implementation of the U.S. Food and Drug Administration's Food Safety Modernization Act Preventative Controls for Animal Food rule, which recently went into effect even for small and very small businesses.
What feed producers need is a material handling solution that's portable, flexible, safe, and efficient. They need, that is, a selection of Mobile Bins and user-friendly Bin Tippers.
Bin Tippers and Bulk Bins for Feed Additives and Loose Grain
Adding extra ingredients or spilled grain to mixers requires two complimentary motions: lifting and tipping. These are particularly risky movements for workers. The University of Chapel Hill's Environment, Health, and Safety department points out that "lifting heavy items is one of the leading causes of injury in the workplace."
Twisting and turning, meanwhile, are second only to bending as a cause of back injuries, the University reports. Clearly, lifting and emptying bulk bins of materials is a perfect storm of ergonomic hazards.
Stainless Steel Dumpmaster hydrauling Bin Tippers remove the risk. They also speed up bulk material handling tasks considerably. Thanks to a unique lift-and-tip motion, these units keep weight centered over the frame for the ultimate in stability.
These units ship complete with heavy-duty, non-marking casters, making them a highly mobile solution for generalized bulk material handling in the animal feed facility. At the same time, they comply with rigid new sanitization standards from the FDA.
Grain Handling Under the FDA FSMA Preventive Controls for Animal Food
In 2015, the FDA published its final rule on Preventive Controls for Animal Food as part of the broader Food Safety Modernization Act. These rules went into effect for different businesses over the next three years, but as of this writing, feed mills of all sizes must comply.
In Section 507.22 of the rule, the FDA mandates that equipment used in the production of animal feed must meet basic requirements. These include:
"All plant equipment and utensils, including equipment and utensils that do not come in contact with animal food, must be designed and constructed of such material and workmanship to be adequately cleanable, and must be properly maintained."
"Animal food-contact surfaces must be:"

"(i) Made of materials that withstand the environment of their use and the action of animal food, and, if applicable, the action of cleaning compounds, cleaning procedures, and sanitizing agents;"
"(ii) Made of nontoxic materials; and"
"(iii) Maintained to protect animal food from being contaminated."

"Holding, conveying, manufacturing, and processing systems...must be designed, constructed, and maintained in a way to protect against the contamination of animal food."
Stainless Steel Dumpmaster Bin Tippers meet these stringent requirements. All exterior edges are rounded for easy sanitation, and the nonporous, stainless steel construction prevents colonization by pathogens.
In short, bin dumpers improve material-handling flexibility in animal feed production facilities, and they do so while complying with the latest FDA regulations.
References:
"
21 CFR 507.22 - Equipment and Utensils.
"
FDA
. U.S. Food and Drug Administration, 1 Apr. 2018. Web. 15 Jan. 2019. "
Current Good Manufacturing Practice, Hazard Analysis, and Risk-Based Preventive Controls for Food for Animals.
"
Regulations.
U.S. Federal Register, 17 Sept. 2015. Web. 15 Jan. 2019. "
Lifting and Material Handling.
"
UNC
. University of North Carolina at Chapel Hill, Environment, Health, and Safety, n.d. Web. 15 Jan. 2019.