Green Waste Management: Diverting Recyclables at Music Festivals
Print
By Solus Group Marketing Team
March 4, 2019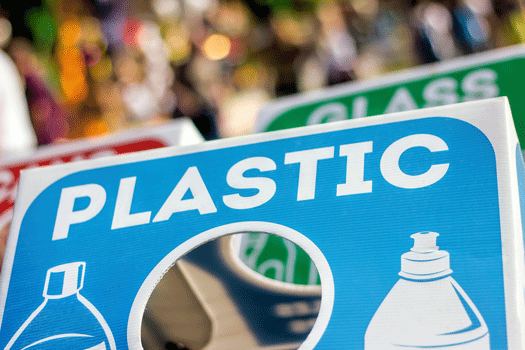 The largest outdoor music festivals bring hundreds of thousands of revelers together to eat, drink, dance — and discard their waste. Clearly, not every water bottle makes it into the recycling bin.
A lot of waste ends up on scattered around the grounds, awaiting the hard work of the removal crew. In order to run a green operation, not only do employees have to accumulate and cart away waste, they have to direct it to the appropriate waste stream.
So how can festival organizers empower their clean-up crews to successfully remove every last bit of waste, while routing recyclables and organics to their own separate waste streams? Here are a few tips.
Separate Waste Streams at the Point of Collection
Gone are the days of large-volume trash bins as primary waste-collection points. Instead, organizers should set up sets of bins, color-coded for their respective waste streams. For instance, label a green bin "recyclables," a brown bin "organics," and a red bin "general waste."
Post images of appropriate waste items on each bin. For even better waste diversion, post volunteers at each collection point to help guide guests to reduce contamination in recycling and composting trash cans.
Make it Easy to Route These Bins to Separate Collection Points
You might use different haulers for each waste stream, so it's crucial to give employees clear, low-stress paths to each separate roll-off dumpster. Assistive, ergonomic equipment like the Nu-Star Power Pusher can give each employee the ability to safely carry loaded bins across festival grounds, without risking injuries from overexertion or excessive lifts.
The Power Pusher uses a 400-watt electric motor to replace muscle power, empowering each member of the grounds crew with the superhuman ability to move up to 50,000 pounds of weight from waste-collection point to distant dumpsters.
Boost Dumping Power at Dumpsters
Splitting a single waste stream into three (recyclables, organics, and landfill waste) places additional stress on your removal team. One option is to boost staffing levels — but even then, the highly physical work of lifting and emptying fully loaded waste bins can injure workers, slow down your operation, and lead to additional costs.
Instead, provide mechanical equipment that removes the risk and speeds up existing staff, allowing your current team to complete more waste-removal tasks with the same cost outlays.
Dumpmaster Hydraulic Bin Tippers lift and empty loaded bins of recyclables, organics, and traditional waste at the press of a button. These ergonomic dumping solutions include safety features that ensure efficient, healthy operation for events of all sizes.
Existing Green Waste Efforts at Music Festivals
Major music festivals have been trying to improve recycling rates for years. Large-scale events like the Warped Tour, Coachella, and the Stagecoach Festival partner with a nonprofit called Global Inheritance to drive waste diversion and sustainability during their events.
Global Inheritance installs consciousness-raising installations like decorated recycling bins, recyclables-for-prizes booths, and even an animatronic polar bear who tells fortunes with a strong environmental subtext.
Despite these efforts, Coachella attendees create around 107 tons of waste per day. One environmental impact report states that the Coachella grounds, which are also used for other music festivals throughout the year, create to 1,612 tons of solid waste each year.
Even worse, only about 20 percent of this waste is successfully diverted to the recycling stream. While all these efforts are welcome, even encouraged, the key to boosting waste-diversion rates at music festivals may require something more concrete — like better-equipped waste-handling staff.
References:
Kennedy, Corinne. "Coachella generates 107 tons of solid waste each day. About 20% of it gets recycled."DesertSun. USA Today Network, 21 Apr. 2017. Web. 23 Feb. 2019.
Murphy, Rosalie. "Sustainability becomes a game for Coachella Festivalgoers." DesertSun. USA Today Network, 19 Apr. 2015. Web. 23 Feb. 2019.