From the smallest bed and breakfast to the grandest luxury hotel, waste management can easily get out of control in the lodging industry. It's an issue of sheer scale: Green Hotelier, an industry journal, reports that every guest creates two pounds of waste for each night they stay. Meanwhile, the average hotel in the U.S. has 290 rooms, 64.4 percent are occupied on a given night.
A quick crunch of the numbers tells us that, in the average U.S. hotel, guests alone generate nearly 374 pounds of waste per night. When you add in the waste generated by hotel restaurants and room service kitchens, that number quickly balloons. (In the United Kingdom, hotels create 79,000 metric tons of food waste every year—at the painful cost of £4,000 [$5,356] per metric ton.)
There are two major issues with this rate of waste generation: First, many guests prefer to stay at establishments that leave a smaller footprint on the environment. Secondly, and perhaps even more importantly, staff members put themselves at risk when they repeatedly lift and empty hundreds of pounds of garbage.
Bin Tippers from Solus Group can help with both problems. Let's look at these challenges one at a time:
Diversifying the Hotel Waste Stream
In hotels, as in the home, the key to cutting back on waste is to remember the three Rs: reduce, reuse, and recycle. At a facility like a hotel, which generates every kind of waste under the sun, the way to realize the latter two Rs is to create multiple waste streams.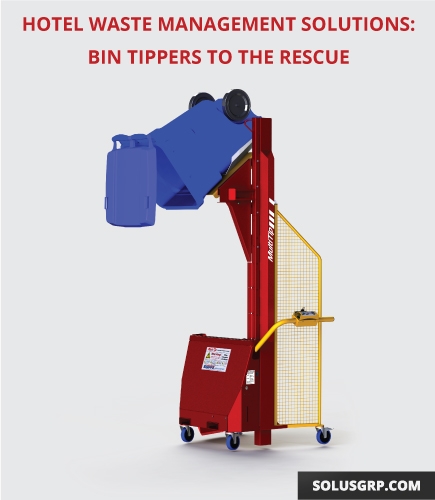 Designate hefty bins in the kitchen for composting. Place recycling receptacles in guest rooms. There are plenty of third-party services who will collect recycling and composting dumpsters as long as you keep your waste types segregated.
This poses an interesting problem, though. Won't staff production decline if employees have to take the time to carry out three different waste bins instead of just one?
This is where the Bin Tipper comes into play. The Multi-Tip Bin Tipper is much lighter than it looks, and anyone can easily wheel it from one dumpster to the next. Roll a trash can filled with up to 330 pounds of waste into the cradle and this ergonomic machine will empty it in just 20 seconds, using a unique lift-and-tip motion that keeps the weight of the load centered over the frame.
Not only does this reduce time during a common daily task, it's also much safer for your employees — which brings us to our next point.
Ergonomic Waste Disposal for Busy Hotels and Restaurants
According to one alarming study, 84 percent of Taiwanese hotel restaurant workers reported having had an episode of work-related musculoskeletal disorders within the prior month. These injuries — such as back pain, carpal tunnel syndrome, and muscle strains — are caused by lifting heavy objects, moving awkwardly, reaching overhead, and performing repetitive tasks. Emptying trash bins entails at least three of these.
A Bin Tipper reduces the chance of worker injury during this task to virtually nil. And, as any employer who has seen workers' compensation insurance premiums rise following a claim, an investment in safety pays its return with the first prevented injury.
In short, Bin Tippers are a key part of any advanced hotel waste management plan.
References:
"Hotel Revenue Statistics." StatisticBrain. Statistic Brain Research Institute, 25 Feb. 2017. Web. 8 Dec. 2017.
"Lodging Industry Trends 2015." AHLA. American Hotel and Lodging Assocation, 2016. PDF. 8 Dec. 2017.
Chyuan, JY, CL Du, WY Yeh, and CY Li. "Musculoskeletal disorders in hotel restaurant workers." PubMed. Occupational Medicine, Jan. 2004. Web. 8 Dec. 2017.
"Reducing and Managing Food Waste in Hotels." GreenHotelier. International Tourism Partnership, 2 Sept. 2014. Web. 8 Dec. 2017.
"Waste Management." GreenHotelier. International Tourism Partnership, 27 Nov. 2009. Web. 8 Dec. 2017.