Bulk waste management requires bulk material handling equipment. If your facility handles post-use materials on a large scale, you need mechanical help to safely transport, lift, and empty bins. This waste-handling equipment may include any or all of the following: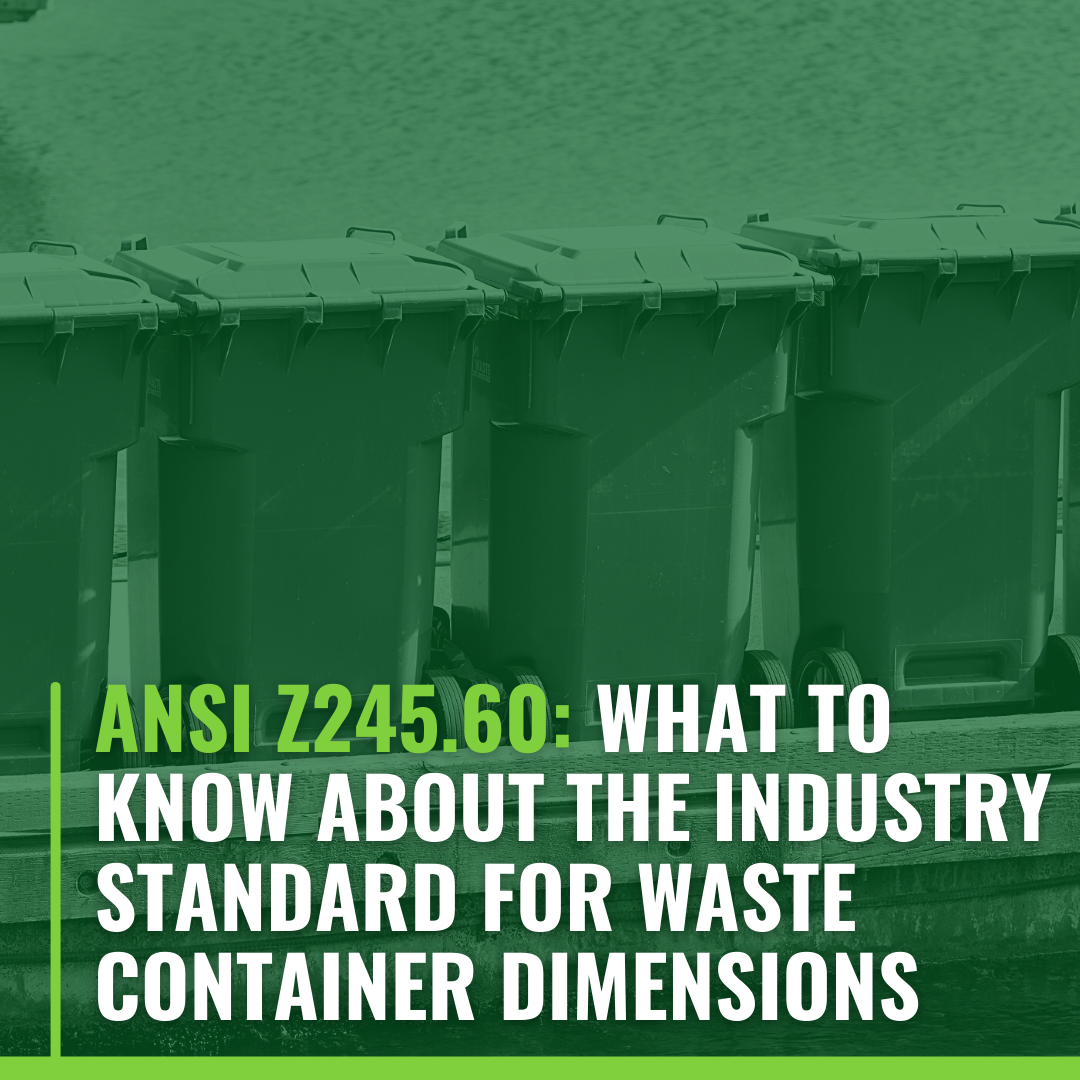 You also need a way to know which waste containers are compatible with your equipment, and that requires industry standardization for manufacturers of bins and the equipment that handles them. That's where the American National Standards Institute (ANSI) Z245 series can help — specifically, ANSI Z245.60, the American National Standard for Equipment Technology and Operations for Wastes and Recyclable Materials — Waste Containers — Compatibility Dimensions. (We'll just call it ANSI Z245.60 from here on out.)
Standard Z245.60 describes ideal dimensions for waste containers in commercial, industrial, and residential waste streams. It describes the labels bin manufacturers should use to communicate these dimensions to users and manufacturers. And it standardizes waste container shapes and sizes to help end-users make purchasing decisions based on their material handling fleets.
Note that ANSI Z245.60 is not available for free. You can purchase a copy of the full standard for $80 as of this writing on the ANSI Webstore. The latest edition is from 2008. But is it worth the expense? Here's what you need to know about ANSI Z245.60, the industry standard for waste container dimensions, before spending a dime.
Who is ANSI Z245.60 for?
This standard was designed for three primary audiences. The first includes manufacturers of waste collection vehicles and bin handling equipment. The second audience comprises end-users of that equipment: waste haulers, certainly, but also anyone who manages waste-handling systems at commercial or industrial operations. The final audience for Z245.60 includes manufacturers of waste containers themselves.
The labeling requirements described in ANSI Z245.60 help end-users identify bins that are compatible with their waste-handling equipment, while the standardized dimensions allow manufacturers to build bins and machines with broader application. If you're a manufacturer, ANSI Z245.60 should hold an esteemed place on your engineering shelf.
If you're an end-user, you may have other options for ensuring lifting equipment and waste containers work together to create a safe, efficient waste-handling system at your facility. That doesn't mean end-users shouldn't buy a copy of the latest Z245.60 standard, just that the decision is a little less certain than for manufacturers.
What does the standard for waste container dimensions cover?
The bulk of ANSI Z245.60 is devoted to describing around a dozen types of waste containers and providing ideal dimensions for each. For instance, Type B Containers are familiar wheelie bins, such as Cascade Icon Series Roll-Out Carts, available from Solus Group in 35-gallon, 64-gallon, and 96-gallon sizes. Type S describes front-load containers with side sleeves, while Type L Containers feature hook attachments to match hook-lift trucks. This standard provides acceptable dimensions for these and other common bin styles.
There's also a brief chapter on safety features; for more safety information on manufacturing and using waste containers, see ANSI Z245.30-2008, which covers full safety requirements for waste containers. Standard Z245.60 also describes the labels and markings bin manufacturers should post on their products, as well as other assorted details.
What does ANSI Z245.60 leave out?
This standard is only concerned with bulk waste containers designed to be handled by mechanical equipment. Those containers may include casters, or they may be completely stationary, but they're not designed simply for manual handling; they're all compatible with some form of lifting or transporting equipment.
Because of this focus, ANSI Z245.60 does not discuss household wastebaskets, small office trash cans, or any container intended to be emptied primarily by hand. If you don't need a Bin Dumper or a garbage truck to handle the container, it isn't covered by this standard.
Is this information available anywhere else?
While ANSI Z245.60-2008 is the latest and most authoritative listing of standardized waste container dimensions in the United States, European manufacturers may consult the European Committee for Standardisation (CEN) series EN 840 - Mobile waste and recycling containers. This six-part series of standards provides dimensions as well as safety and health requirements.
Whichever set of standards dominates your part of the world, end-users don't necessarily have to buy a copy of ANSI Z245.60 and do their own research. Your material handling equipment dealer can help you choose waste-handling equipment and bins to match. Dealers like Solus Group will advise you on which carts or dumpsters are best for your existing infrastructure.
To learn more about waste containers, Bin Dumpers, and compatibility between the two, contact Solus Group at 314-696-0200. We also offer Turnkey Waste Handling Solutions that bundle everything you need for safe, efficient waste-handling into a single purchase. Rather than spending the cash on a copy of ANSI Z245.60, talk to our sales team to build a better waste-handling system today.