For unloading bins in warehouses and other operations, forklift bin dumper attachments provide extraordinary value. Products like the Forward Bin Dumper (FBT1000-760) attach to lift truck forks, allowing the operator to quickly empty cubic bins, pallet bins, or megabins without affecting the truck's capacity to handle stacked bins and pallets.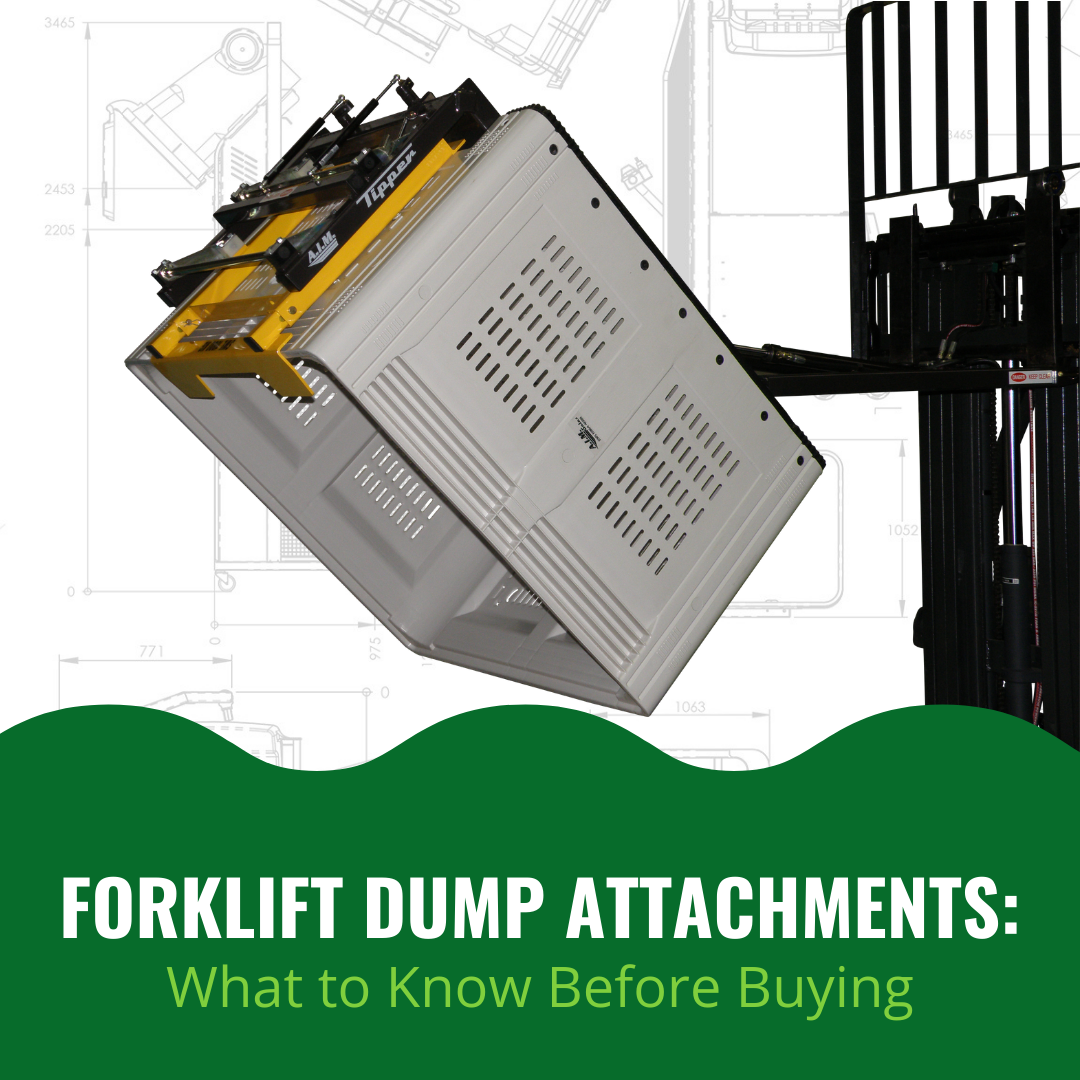 When employed correctly, these attachments improve throughput by enabling personnel to handle a greater variety of tasks. They may also aid in compliance with OSHA's General Duty Clause, as bin lifters are, by nature, ergonomic devices — when workers don't need to bend or lift to handle dumping tasks, the workplace is safer and more productive.
However, buyers need to carefully evaluate their options when adding any new equipment to their fleet to ensure the best possible long-term results.
Choosing Between Dedicated Bin Dumpers and Forklift Dump Attachments
While forklift attachments add to the functionality of existing equipment, they're not necessarily the right choice for every task. Dedicated bin dumpers can be a better investment when dumping tasks need to be carried out regularly at a single location, when tasks require unconventional bins, and in various other situations.
Some considerations to keep in mind:
Container Type - Forklift bin dumper attachments are designed to handle pallet bins, while dedicated bin dumpers are somewhat more versatile, capable of handling trash cans, carts, and various other containers.
In other words, both pieces of equipment can provide valuable utility for an operation — but forklift attachments are a more suitable choice for most work on the floor. The FBT1000-760 handles standard bins from 43.3 inches to 47.2 inches (1100 to 1200 mm), which accommodates the vast majority of pallet bins and megabins.
Ease of Use - Unsurprisingly, forklift bin tippers require the skills of trained forklift operators. Dedicated bin tippers can be operated by most personnel without extensive training, and when lifting or dumping tasks need to be carried out regularly — for instance, when dumping liquids or waste — one or more dedicated bin dumpers may allow an operation to save on manpower.
Load Capacity - High-quality forklift bin dumpers have a minimal effect on load capacity and can safely lift loads of several thousand pounds (the FBT1000-760 has a safe working load capacity of up to 2,205 pounds). Most dedicated bin dumpers are designed for smaller loads; the Dumpmaster Hydraulic Bin Dumper, for instance, empties bins and drums weighing up to 550 pounds, while the MegaDumper has a lifting capacity of 1,320 pounds.
Factors to Consider When Buying a Forklift Bin Dumper Attachment
Forklift attachments can be less costly than dedicated bin dumpers, and when used properly, they're efficient and precise. In other words, don't expect a single attachment to handle every dumping task — but when an operation needs to dump pallet bins on a regular basis, a bin dumper attachment makes sense.
The FBT1000-760 features robust construction with stainless steel pivot pins and zero-maintenance pivot bearings, ensuring a long operating life and dependable functionality. With a unit weight of 342 pounds, it has a negligible effect on the lift truck's total operating capacity. Most importantly, it provides smooth travel for bins and gently handles both plastic and timber containers, extending bin life considerably when compared with other options. Its 135-degree forward rotation fully empties containers, while a safety catch prevents dumping when bins aren't correctly positioned.
Pallet bins require a dedicated lifting solution, and the FBT1000-760 is an excellent option that adds new functionality to an existing forklift fleet. For more information on forward bin dumpers or to discuss options for your facility, contact the Solus Group sales team at (314) 696-0200.