Within the food supply chain, material handling equipment is essential. The right equipment can allow for increased throughput, better utilization of storage space, and improved ergonomics for workers.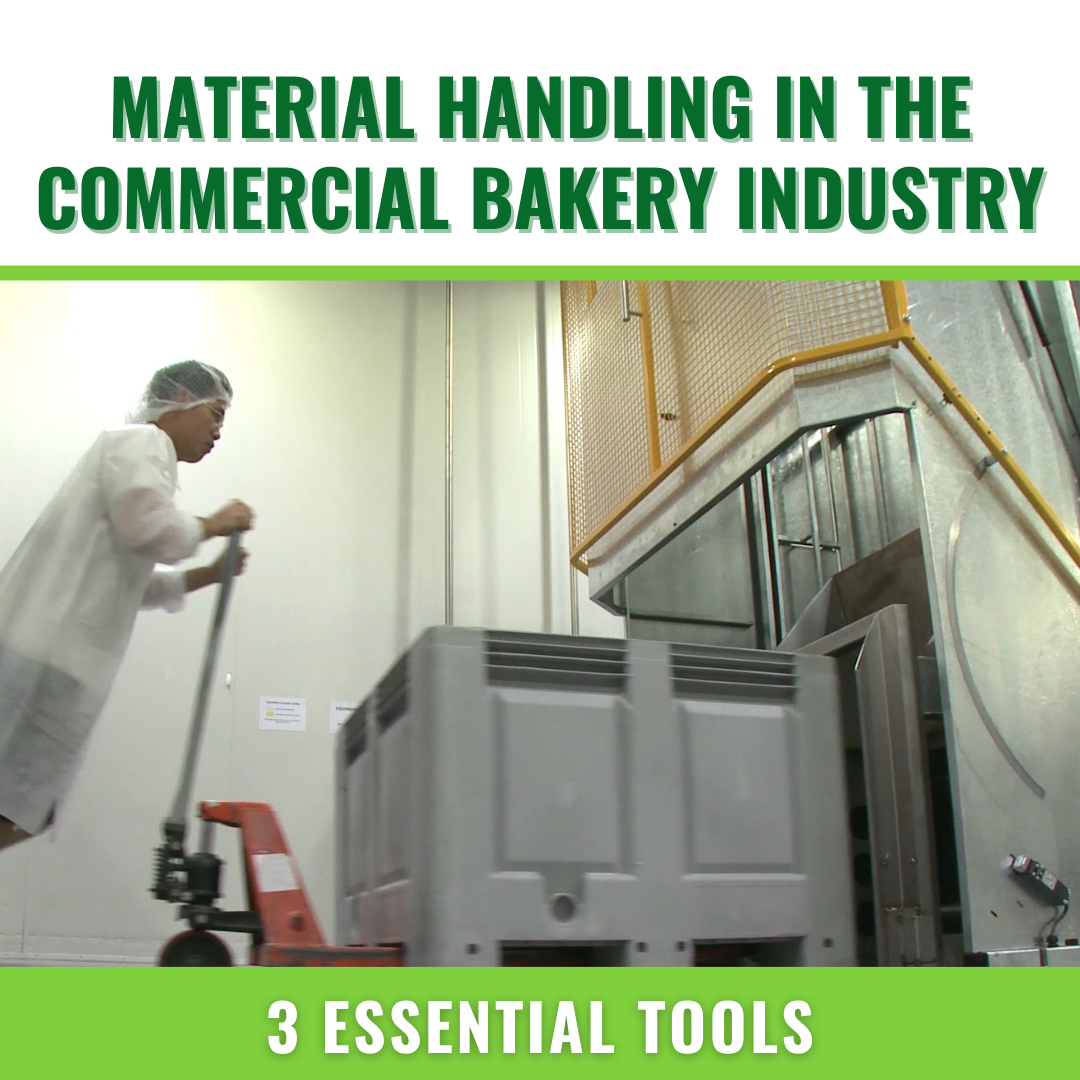 That last point is especially important: One study from the Journal of Occupational and Environmental Medicine found that food industry workers have a 60% higher rate of occupational illness and injuries as compared to workers in non-food industries. Additionally, the lost-time injury rate was more than twice as high.
By supporting ergonomics, commercial food businesses can reduce the chances of musculoskeletal injuries for their employees. That means fewer worker's compensation claims and less downtime — not to mention the practical benefits of using tools designed for the job at hand.
The path to a safer, more productive facility begins with the right equipment. Below, we'll explain how to outfit your commercial bakery for success.
Choosing Equipment for Commercial Bakeries and Food Storage Facilities
Most material handling equipment is designed for applications with lower product standards than the food industry. All equipment must be sanitizable — that generally means food-grade stainless steel, which is both hygienic and durable.
Equipment must also be ergonomic. Per the Occupational Safety and Health Administration (OSHA) definition, ergonomics is the science of fitting the job to the person, rather than forcing human bodies to work in awkward positions or perform heavy lifting tasks. Material handling equipment can help by keeping loads in optimal position, particularly during mixing, loading, offloading, packing, and other physically demanding tasks.
Here's how ergonomic equipment from Solus Group can help your facility find new ways to accommodate workers — and boost productivity in the process.
1. The Crate Wizard: A Bread Crate Stacker Designed for Safety and Efficiency
The Crate Wizard is a comprehensive material handling solution for transporting plastic bread crates. The average plastic crate weighs about three pounds when empty — but when workers load and stack crates, the number rises quickly.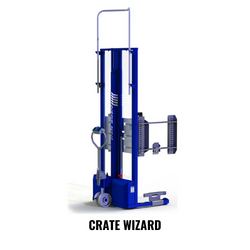 MSDs frequently develop due to repetitive stress. If your employees regularly stack crates, they're taking a risk with every load. Additionally, manual stacking isn't exactly efficient; an individual employee may only move a few crates at a time, while the right material handling equipment can handle larger, more predictable loads with ease.
The Crate Wizard features side-grasping arms, which can grip crate stacks at every level. These clamps travel all the way to the floor, eliminating the need to bend and lift. An auto-height control allows for quick operation, and a 12-volt, 55 amp-hour sealed-gel battery provides all of the necessary power.
Other features of the Crate Wizard:
With a load limit of 551 pounds (250 kilograms), the Crate Wizard provides fast transport for high-capacity loads.
Crate stacks can be lifted from ground level up to 59" (1500 mm) high.
A digital smart charger keeps the battery reliably charged at capacity.
Steered rear wheels allow for excellent maneuverability in tight spaces.
The compact design is only 4" (100 mm) wider than the crates themselves.
The weather-proof controls and zinc finish allow for outdoor use.
With the Crate Wizard, workers operate simple, hand-mounted controls to lift and move bread crates. It's an excellent solution for commercial bakeries and distribution hubs of all sizes.
Related: Bread Crate Stackers and Ergonomics for Commercial Bakeries
2. Bin Dumpers: Mixing Ingredients Without Sacrificing Ergonomics
Bulk ingredient handling poses risks — both in terms of ergonomics and slip-and-fall hazards.
OSHA recommends implementing engineering controls to remove hazardous actions. Bin Dumpers are ideal for lifting and emptying heavy containers of ingredients, and when properly implemented, they're an outstanding option for commercial bakeries.
Manual Bin Dumpers work well for low-volume, light duty applications, but for commercial bakeries, hydraulic bin dumpers are typically the best option. Hydraulic bin tippers are capable of handling enormous loads, and they're designed for nearly maintenance-free operation — even when working with grains and liquids.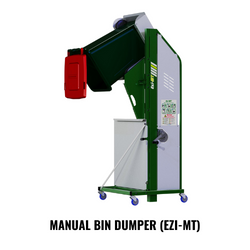 For food industry applications, consider the Dumpmaster and MegaDumper. The Dumpmaster can handle loads of up to 550 lb (250 kg), raising ingredients to appropriate tipping height via simple, fully-enclosed controls. The MegaDumper is designed for larger industrial bins between 300 and 450 gallons and features a weight capacity of 1,320 lb (600 kgs).
Other features of bin dumpers:
Transparent PET-G Operator guards are available on most models. Operator guards protect workers from splashes, and the industrial-grade plastic is easy to clean.
All bin dumpers are available either partially or completely constructed from high-grade 304 stainless-steel, which is appropriate for hygiene-critical environments.
Some models can be bolted down to create a fixed dumping solution.
Mobile models have dual brakes and are designed to keep the load weight within the unit footprint during operation.
Container dumpers must meet FDA Food Code rules and should be outfitted appropriately to minimize spillage.
Bin Dumpers can be customized with stainless steel chutes, which keep materials contained (and off the floor). Each Bin Dumper Chute is custom-made to fit its application, but they're all retrofittable — that means that you can upgrade to another model of Bin Dumper without replacing customized Chutes.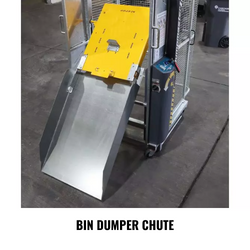 Review our full line of Bin Dumpers to find the perfect option for your facility.
Related: Using Less Packaging in the Food Processing Industry
3. Lift Tables and Tilt Tables: Simple, Safe Positioning
Commercial bakeries can also benefit from Lift Tables and Tilt Tables, all of which can be customized for specific applications.
Scissor Lift Tables can lift everything from dough bowls to large pallets, keeping the load at the optimal height for manual tasks. Tilt Tables can position loads ergonomically after lifting, eliminating the need to bend and reach.
All Lift Tables and Tilt Tables can be outfitted with stainless steel surfaces for food processing, and additional options like roller conveyors, turntables, and ball transfer tops enable integration with an existing processing/assembly line.
Features of BHS Lift Tables and Tilt Tables:
Powered and manual options are available.
Tilt Tables can handle loads of up to 10,000 pounds (4,536 kg).
Tabletops can be customized to meet a desired size or application.
Lift Tables have enclosed hydraulic components for maximum safety and minimal maintenance.
Mobile and floor-mounted options are available.
Tilt Tables and Lift Tables are the ultimate work positioners — and they give your facility flexibility, which can be particularly important for bakeries with seasonal demand.
Related: Lift Tables in Manufacturing: Mobile or Stationary?
Solus Group Provides Solutions for Material Handling in the Food Industry
At Solus Group, we're dedicated to providing the commercial baking industry with durable, sanitizable material handling equipment that promotes ergonomics while improving productivity. Custom options are available, and our sales team is ready to help you find the best solutions for your operation.
To learn more, call our sales team at 314-696-0200.