Before you can store food products in the U.S., you have to meet a long list of rules enforced by the Food and Drug Administration (FDA). This regulatory agency oversees the nation's food supply chain, from production to transportation to storage, all the way up to the consumer's table. You can consider the food-grade warehouse a storage facility that complies with all the standards and regulations required by the FDA, state, and municipal health authorities — but while local rules may differ from one place to another, FDA regulations cover every facility.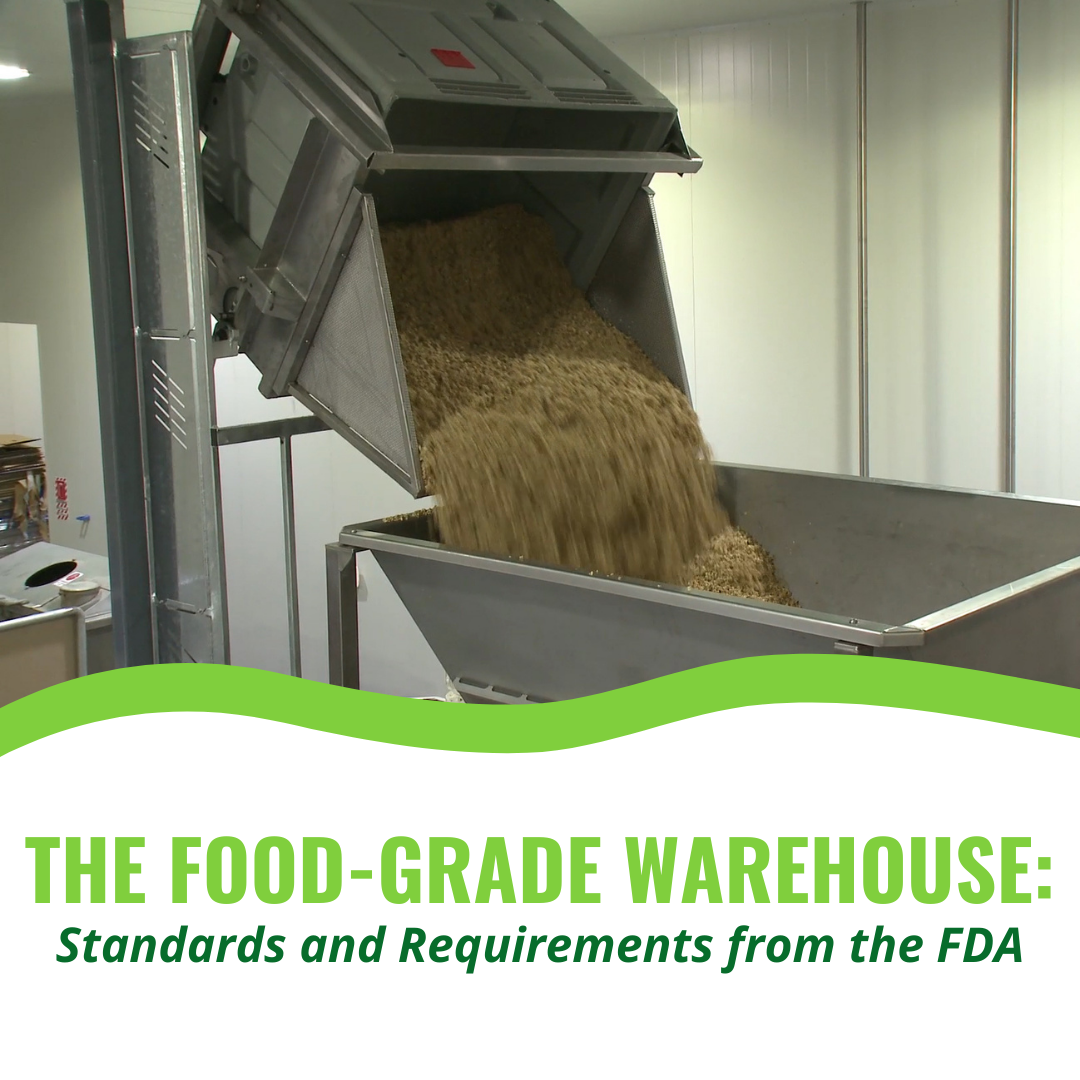 Here are some of the most important FDA rules every food-grade warehouse operator must comply with:
1. To be considered food-grade, warehouses must register with the FDA before operating.
Before you can handle food products — including pet food, dietary supplements, and raw edible materials as well as processed and unprocessed food for human consumption — you must complete FDA registration for your facility. But there's some good news about this process: The FDA doesn't charge a fee, and you only have to complete the initial registration once.
To register a food-grade warehouse with the FDA online, visit http://www.fda.gov/furls. To register by mail, contact the FDA at 1-800-216-7331 and request Form FDA 3537 (they'll mail it to you).
2. Food-holding facilities must submit to periodic FDA on-site inspections.
The 2011 Food Safety and Modernization Act (FSMA) increased the frequency of FDA inspections for food manufacturers, processors, and holders — which means food-grade warehouses. To determine this inspection frequency, the FDA separates food facilities into high-risk and non-high-risk operators, based on:
Established safety risks for the food items you plan to handle — if you just handle prepackaged, shelf-stable foods, you're more likely to be a non-high-risk food warehouse than if you handle raw shellfish.
The facility's past record of compliance with FDA rules.
The quality of the facility's hazard analysis and risk-based preventive controls (HARPC), which we'll discuss below.
"Any other criteria deemed necessary and appropriate … for purposes of allocating inspection resources." (In other words, the FDA may introduce new standards for separating high-risk facilities from others.)
The best way to figure out if the FDA considers your food warehouse "high-risk" is to contact the FDA's Center for Food Safety and Applied Nutrition, which provides guidance for industry as well as consumers.
According to the FSMA, the FDA will inspect domestic high-risk food-holding facilities every three years at the very least. Non-high-risk facility managers should expect FDA inspections at least once every seven years.
3. All food-grade warehouses must create, maintain, and submit to the FDA a comprehensive hazard analysis and risk-based preventive control (HARPC) plan.
The HARPC plan is a set of written operating procedures for reducing the risk of food-based illness within a food-handling facility (including warehouses and distribution centers). According to an FDA summary of the FSMA, this plan must include:
An evaluation of potential facility hazards related to food safety.
A set of steps, procedures, or controls to reduce (or ideally eliminate) each hazard.
A plan for monitoring the effectiveness of the facility's hazard controls.
Procedures for keeping records on hazard monitoring.
Concrete steps the operation will follow to correct any food hazards that may occur.
For more detailed advice on creating an FDA-compliant HARPC plan for your food-grade warehouse, see the FDA's guidance for industry.
4. Food-grade warehouses must meet federal standards for sanitary operations.
Standards for sanitation in food-handling facilities can be found in the Code of Federal Regulations, specifically in Title 21, Chapter 1, Subchapter B, Part 117, Section 117.35: Sanitary operations. Key parts of 21 CFR 117.35 state that:
Operators must keep all buildings, infrastructure, and equipment in a "clean and sanitary condition" that prevents cross-contamination.
Cleaning supplies have to be "safe and adequate." Cleaning solutions are the only toxic chemicals allowed in a food-grade warehouse, and only then if they're necessary and required to maintain sanitation.
No bugs, rodents, or other pests are allowed in a food-grade warehouse. To keep them out, you can use pesticides and even pest-hunting dogs — but only if you take effective steps to keep these controls from contaminating food or food-contact surfaces and materials.
Operators must ensure that all food-contact surfaces — that includes tools, utensils, material handling equipment, tabletops, or anything else that touches food — are cleaned often enough to prevent contamination and cross-contact with allergens.
Even surfaces that don't contact foods must remain clean and sanitized; essentially, the operator must do whatever it takes to prevent allergen cross-contact and food contamination within the facility.
Other sections of Part 117 of this CFR Subchapter go beyond the facility, requiring employees to maintain personal cleanliness. Facilities must also provide infrastructure for cleaning, including hand-washing and sanitation for surfaces. That means water supply, plumbing, sinks, and a good waste-handling system.
5. Warehouse equipment, tools, and utensils must also meet federal safety standards.
Warehouses can't operate without adequate material handling equipment — and when those warehouses handle food, not just any equipment will do. According to 21 CFR 117.40, equipment and utensils in food-handling facilities must meet the following criteria (which is not a complete list; consult the Code of Federal Regulations for details):
All equipment used to pack or hold must be cleanable, with smooth seams and non-toxic materials.
Equipment that comes into contact with food must be corrosion-resistant.
Food-handling equipment cannot shed fuel or oil or fragments into food products.
All food-contact surfaces must be designed and maintained to prevent contamination or allergen cross-contact.
Given that surfaces must be corrosion-resistant, easily cleanable, and non-toxic, stainless steel has become a material of choice for food-handling equipment in food-grade warehouses. High-quality HDPE plastic, designed for safe contact with food, is another option for material handling bins and carts.
Product-Handling Equipment for the Food-Grade Warehouse
Solus Group offers a range of material handling products that can help keep food-grade warehouses compliant with FDA regulations — while improving safety and throughput with every shift. Here are a few products to consider for every food-handling facility:
The Crate Wizard, a Bread Crate Stacker Designed for Food-Handling Facilities
The Crate Wizard is a maintenance-free crate stacker with a zinc-plated frame for extraordinary corrosion resistance. This unit grips stacks of bread crates — loaded or unloaded, up to 551 pounds (250 kilograms) — with horizontal clamping arms, allowing a single user to safely move large loads of plastic crates efficiently.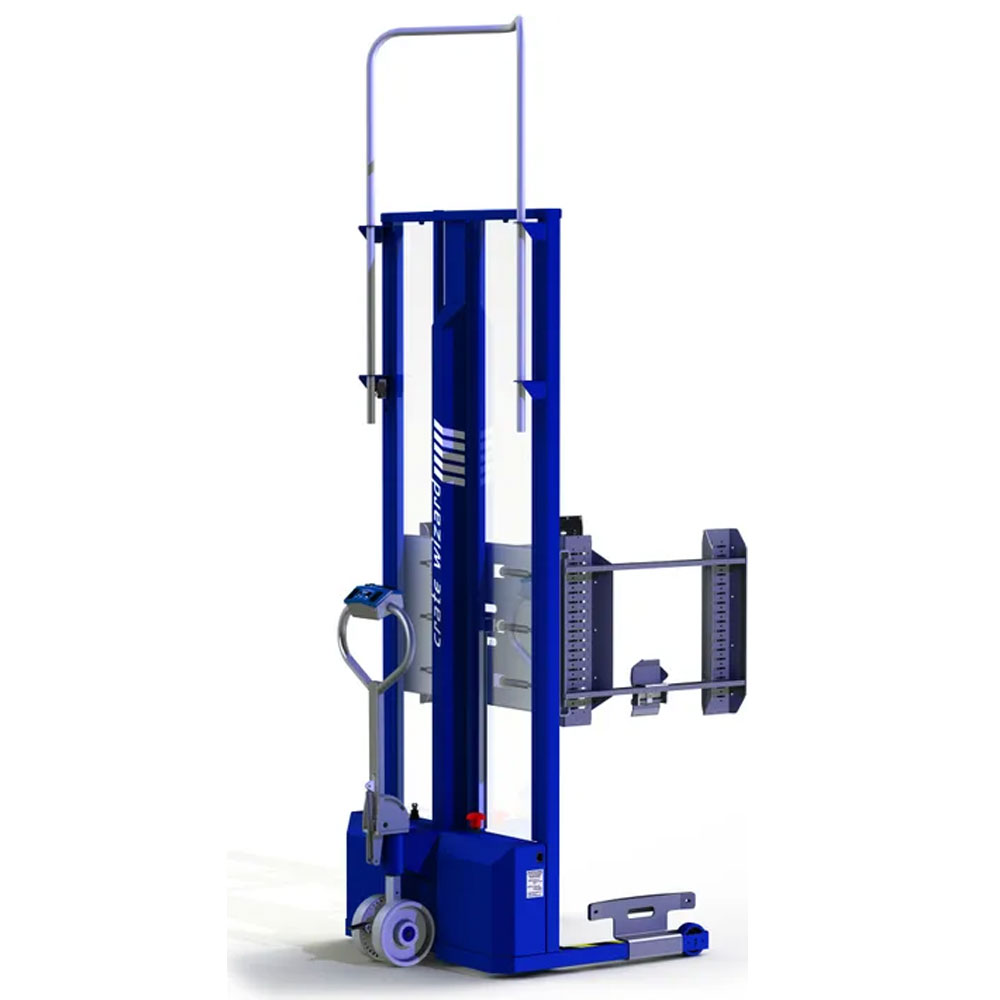 Learn more about the Crate Wizard here.
A sealed gel battery eliminates the risk of electrolyte leakage, while a closed electro-hydraulic system provides safe operation for food-handling applications. The Crate Wizard isn't a food-contact surface; it's designed to grip bread crates, not food products themselves. But it is still highly cleanable in accordance with FDA sanitation requirements.
Bin Dumpers, Safe, Sanitary Waste Handling Available in Stainless Steel
The FDA requires food-grade warehouses to maintain clean and effective waste streams. Bin Dumpers from Solus Group can help, improving productivity with every emptied waste bin. Depending on the model, Bin Dumpers lift and tip containers ranging from standard Roll-Out Carts to high-capacity Mobile Garbage Bins. That removes the ergonomic risk for workers while improving throughput for facility waste handling.
While standard Bin Dumpers feature galvanized steel frames and corrosion-resistant, zinc-plated guarding, they're also available in stainless steel for an even higher standard of cleanliness (Contact Solus Group for more information about stainless steel Bin Dumpers).
Browse our collection of Bin Dumpers here.
Food Service Bins, Stainless Steel Material Handling Carts
Remember that the FDA requires all food-contact surfaces to be smooth, cleanable, non-toxic, and corrosion-resistant. Stainless steel Food Service Bins check all those boxes, providing a safe, efficient way to both store and transport food products throughout the facility. Each stainless steel bin features angled seams to avoid right angles, making every inch easy to sanitize. Heavy-duty casters simplify transport, while caster locks keep carts in place between movements — and integrated fork pockets allow users to transport loads via lift trucks, with or without tipping equipment like the Forward Bin Dumper.
Learn more about Food Service Bins here.
MACX Bins, High-Capacity Pallet Bins for Bulk Material Handling
MACX Bins are designed for industry, and meet all safety standards set forth by the United States Department of Agriculture (USDA) — standards that often overlap with FDA requirements for food-grade warehouses. These bins have carrying capacities of up to 1,500 pounds, and are often found in produce-handling applications. They're available in multiple models, some vented, others solid, and others with lids.
All MACX Bins feature impact-resistant HDPE plastic construction. They resist extreme temperatures, and are safe to operate between -40 degrees Fahrenheit up to 140 degrees Fahrenheit. They're equipped with molded fork pockets, making them ideal for use with electric forklifts outfitted with Forward Bin Dumper tipping attachments.
Learn more about the MACX Ace Solid bin here.
Explore the MACX Ace Vented bin here.
Browse Solus Group's entire collection of Bin Dumpers and Bins here.
While FDA compliance requires much more than the right material handling equipment, these products can help with the broader effort to maintain your food-grade warehouse certification. To learn more about material handling solutions for your warehouse or distribution center, call Solus Group at 314-696-0200.