Warehouse picking carts are essential to any fulfillment operation. They allow pickers to fill many orders per trip, unlocking efficient strategies such as batch picking and zone picking. Even better, they create a safer workplace. Carrying heavy loads and repeated bending and reaching raise the risk of musculoskeletal disorders, the world's leading cause of disability. Carts reduce the hazard by bearing loads and positioning shelves at accessible heights. But not all carts are equally ergonomic. In fact, poor equipment can reduce efficiency and increase the risk of injury, as workers must exert more force to operate a faulty cart.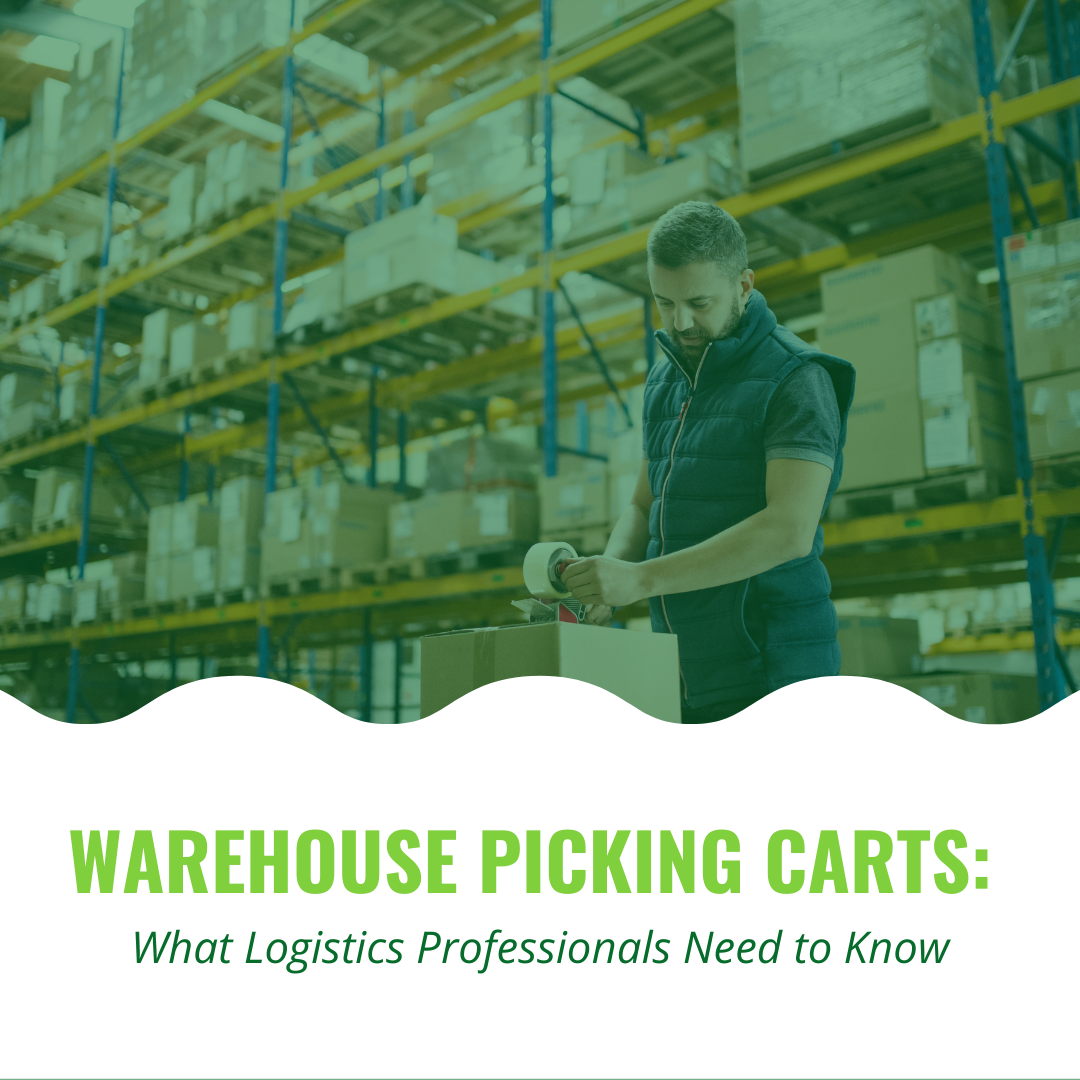 Make no mistake: Order picking is not a risk-free task. "The disadvantages of [the traditional order pick system] are that Selectors are exposed to a number of musculoskeletal stresses including heavy lifting, bending, reaching, twisting, etc.," warns the Occupational Safety and Health Administration (OSHA). The solution is to provide material handling equipment that reduces these risk factors — most importantly, warehouse picking carts designed to fit the work to the worker, the very definition of ergonomics. When choosing a fleet of carts for order picking, here are the features to look for.
Casters: Material, arrangement, durability. A set of caster wheels can make the difference between a helpful cart and efficiency-killing frustration. Warehouse cart caster wheels should be tough, dependable, and smooth-rolling. Look for a combination of two swiveling and two fixed caster wheels; that makes a maneuverable cart that turns on a dime and rolls straight. Phenolic casters are best for most applications.
Shelves: Number, height, edges. Depending on what your warehouse stocks, you may need different arrangements of shelving. Solus Group sells an Order Picking Cart with three shelves and a wider base platform; a nearly-18-inch space between each shelf provides enough room for most consumer products. These shelves are lined with a short lip that keeps contents from sliding over the edge — this is a crucial detail, and one that many warehouse picking carts omit.
Construction: Frame, finish, capacity. In order to function perfectly after years of hard use, warehouse carts need to be durable. Look for steel construction, a tough powder-coat finish, and welded joints. Bolt-together models are insufficient for most order-picking applications. Choose carts that are rated to carry more than the standard weight of many orders. Solus' standard line of Order Picking Carts features a maximum capacity of 3,000 pounds, which is more than enough for most users.
Controls: Push bars, contact points, comfort. For optimal ergonomics, order pickers should be able to push carts by grasping them in the ergonomic power zone, close to the body between the shoulders and the knees. Curved push handles with comfortable molded grips make Stock Picking Carts from Solus Group safe to operate throughout an entire shift, day after day. The smooth, solid frame of an Order Picking Cart, meanwhile, gives every worker a contact point that fits their body perfectly.
Extras: Fork pockets, integrated step ladders, customization. Depending on the application, you may look for additional features in a warehouse picking cart. Stock Picking Carts include an integrated step-stool, allowing pickers to reach objects from higher warehouse shelves without stretching or reaching. Order Picking Carts are fitted with welded fork pockets for quick, safe repositioning via forklift. And Solus Group will work with manufacturers to develop custom models to match any application.
Before making any purchasing decisions, gather data about specific needs: What's the average size and weight of an order? How many orders per trip will pickers collect? Do you sometimes handle unconventional products that may require specialized material handling equipment?
Once you have a good idea of the team's day-to-day needs, contact Solus Group to talk about the options. In addition to Order Picking Carts and Stock Picking Carts in a variety of sizes and configurations, Solus Group features a full range of Material Carts and Warehouse Trailers proven to boost throughput in warehouses and fulfillment centers across the globe. To learn more about warehouse picking carts and other material handling solutions from Solus Group, call us at 314-696-0200 today.