Food Production Equipment Requirements for Emptying Bulk Ingredients
Print
By Solus Group Marketing Team
April 29, 2018
Food production equipment sanitation is serious business. The Centers for Disease Control and Prevention (CDC) estimates that every year foodborne illnesses sicken 48 million people, hospitalize 128,000, and, tragically, kill 3,000. With numbers like those, it's easy to see why the government is doing everything it can to prevent the spread of bacterial and viral infections via food.
To reduce the chances of food-borne illnesses, government agencies mandate specific requirements for food production equipment. For food manufacturers, navigating all of the rules, laws, and best practices can be confusing and unclear. There are multiple agencies and organizations that advise food producers, and that causes headaches when trying to comply.
The good news is that most government regulations and industry standards echo each other. The main goal for food production equipment is to eliminate the harboring of bacteria that could sicken consumers. The preferred way of achieving this goal is through the use of stainless steel equipment that is constructed to be easily sanitized, maintained, and inspected. But how do these standards and regulations affect equipment that's designed specially to lift and empty bulk ingredients, like grains, sugar, and flour? In this article, we'll explore regulations generally, then apply them directly to dumping equipment such as Bin Tippers.
Food Equipment Regulations at the Federal Level
There isn't one single place to look for food equipment regulations. The Food and Drug Administration (FDA), United States Department of Agriculture (USDA), and the Occupational Safety and Health Administration (OSHA) all have something to say about sanitizing equipment used in food production. Here are some of the key regulations from all of these organizations:
OSHA 1910.22(a)(1) states: "All places of employment, passageways, storerooms, service rooms, and walking-working surfaces are kept in a clean, orderly, and sanitary condition."


The FDA's Food Code includes 768 pages of guidance, but the rules basically boil down to 3-304.11: "FOOD shall only contact surfaces of: (A) EQUIPMENT and UTENSILS that are cleaned as specified under Part 4-6 of this Code and SANITIZED as specified under Part 4-7 of this Code."


Some food equipment regulations are found in the U.S. government's Code of Federal Regulations (CFR). Title 21 Chapter 1 Subchapter B Part 110 addresses manufacturing practices for food production. Here are the first four parts of §110.40 - Equipment and utensils (the last three parts deal with more specialized equipment like freezers and compressed air).


Equipment should be designed for easy cleaning and maintenance.
Seams on food-contact surfaces should be as smooth as possible to minimize bacterial growth in cracks and crevices.
Even non-contact food surfaces should be easy to clean in case of accidental cross-contamination.
Conveying systems should be constructed so that they can be maintained in a sanitary condition.
The guidelines in 21 CFR 112.123(a) mandate similar guidelines: "You must use equipment and tools that are of adequate design, construction, and workmanship to enable them to be adequately cleaned and properly maintained."

Part B of the above regulation specifies there are many ways to eliminate the bacterial growth on food production equipment, like having smoothly bonded seams.
The USDA's Sanitation Performance Standards Compliance Guide also addresses equipment used in food production. § 416.3 Equipment and Utensils states equipment must be "maintained in sanitary condition so as not to adulterate product." Furthermore, equipment should be constructed so that Food Safety and Inspection (FSIS) personnel can inspect it.
Finally, the FDA's Food Safety Modernization Act focuses on stamping out contamination at every step of the country's food supply chain. The FDA provides a compliance guide for small businesses. This guide summarizes and repeats much of the guidance given in the CFR and other places. In the equipment and utensils section of the guide, it recommends that all plant equipment be designed with adequately cleanable materials, installed to facilitate cleaning and maintenance, and have food-contact surfaces that are nontoxic and corrosion-resistant.
Non-Governmental Guidance: The NSF/ANSI, 3-A SSI, NAMI, and ISO
The standards created by the National Sanitation Foundation (NSF) and American National Standards Institute attempt to standardize sanitation and food safety requirements by giving specific criteria and definitions for imprecise regulations. The standards of these organizations can be helpful when governmental regulations are vague. Here are some helpful categories from NSF/ANSI.
3-A Sanitary Standards started as a collaboration among regulators, equipment fabricators, and processors attempting to improve sanitation in the dairy industry. Now, they offer their sanitary design expertise to all food manufacturers. They sell pdfs and printed copies of their standards, but they also provide free e-learning modules.
The North American Meat Institute (NAMI) represents the majority of companies that supply red meat and turkey in the US. They give guidance on a variety of food safety issues and publish a helpful Sanitary Equipment Design pamphlet, which offers 10 principles of sanitary design, including:
Cleanable to a microbiological level.
Accessible for maintenance and cleaning.
Hollow areas are hermetically sealed.
No pits, cracks, corrosion, recesses, or other niches.
Controls designed to prevent accumulation or penetration of food products.
NAMI has a variety of other helpfuls links for improving food safety and inspection.
In addition to the American organizations above, the International Organization for Standardization provides widely accepted standards on topics including food safety management.
Food Product Contact Surfaces and Non-Product Contact Surfaces
A University of Florida study helps explain the technical difference between food-product contact surfaces and non-product contact surfaces. The FDA defines a food-product contact surface as one in "direct contact with food residue, or where food residue can drip, drain, diffuse, or be drawn." These surfaces have more rigid sanitary requirements because they frequently come into contact with food.
Food-product contact surfaces should be "smooth, impervious, free of cracks or crevices, nonporous, nonabsorbent, non-contaminating, nonreactive, corrosion resistant, durable and maintenance free, nontoxic, and cleanable." Different materials are used depending on the application, but the generally preferred material is stainless steel because it is corrosion resistant and durable.
Non-product contact surfaces do not regularly come into contact with food, but they must still meet certain requirements to prevent indirect contamination of food. Examples of indirect contamination caused by non-product contact surfaces are the spread of Listeria monocytogenes and the harboring of insects and rodents.
To avoid these contaminants, these surfaces should be "cleanable, corrosion resistant, and maintenance free." Again, stainless steel makes a great non-product contact surface because of its durability and ability to be cleaned easily.
A Comparison of Vertical Conveyors
Vertical conveyors are crucial machines in food production. They lift heavy bulk materials for mixing, packaging, or other handling needs. As integral parts of the food production industry, they must conform to CFR §110.40, which mandates that conveyors "shall be of a design and construction that enables them to be maintained in an appropriate sanitary condition."
Four popular choices of vertical conveyance are screw conveyors, spiral belt conveyor, bucket elevators, and the Stainless Steel Bin Tippers. A comparison will show that three of these have a crucial shortcoming when it comes to sanitation.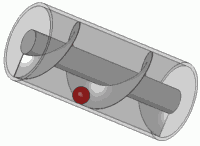 Screw conveyors (also called auger conveyors) use a rotating screw blade to move liquid or grains at a slight incline to move bulk materials. This ancient design uses little energy, requires little maintenance, and can even handle liquids.
Unfortunately, it also has some drawbacks. Its dependence on a slight incline makes it impractical for raising material to a high level in a small space. It is also difficult to clean. This makes it more practical for funneling waste products, such as grape stems into a compost bin, than for food products.
Spiral belt conveyors lift products by conveying them in circles with slight inclines. This design allows spiral belt conveyors to have a much smaller floor footprint than screw conveyors. These workhorses have a high throughput capacity and are gentle on products.
The downside of spiral conveyors is that they require more energy and maintenance than most vertical conveyors. They cannot handle liquids, and they have many inaccessible surfaces that can harbor bacteria. These qualities make spiral conveyors good for canned and bottled goods, but impractical for raw ingredients that require a high degree of sanitation.
Bucket elevators use centrifugal force to elevate bulk materials to practically any height. They have many of the same advantages as a spiral conveyor. They can move a high capacity of materials while taking up minimal space on the floor. Bucket elevators are also capable of gently handling delicate materials, like grains, and are cost-effective to any height.
Of course, bucket elevators are not without drawbacks. Sanitizing them is cumbersome due to the many cracks, crevices, and difficult-to-reach areas. They also consume large amounts of energy and require frequent maintenance.
The stainless steel MegaDumper™ is a hydraulic bin tipper that can be customized for easy sanitation. Made with 304 stainless steel, it is easy to clean, corrosive resistant, and extremely durable. The entire machine can be sanitized in less than five minutes because of its smooth steel surfaces. Its ability to lift and tip loads up to 1320 lbs (1650 lbs with the heavy-duty option upgrade), the MegaDumper™ can easily handle the heavier bins often used in food production.
For slightly lighter loads up to 660 pounds, the Dumpmaster Bin Tipper™ is an ideal choice, as it is also available with stainless steel construction.
These qualities make the Bin Tippers ideal for food production applications. Casters, custom chutes, and splash guards allow it to perform highly specialized tasks in an environment where hygiene is paramount.
Conclusion
While there are many sources of regulations and standards, they share the same basic sentiment: keep your food production equipment sanitary and well-maintained. Achieving this goal requires that your equipment be constructed with hygiene in mind. For most food-production equipment, that means using stainless steel with smooth bonds and covered controls. The MegaDumper™ is the best vertical conveyor on the market for meeting government regulations and industry standards.
References:
Centers for Disease Control and Prevention. "Estimates of Foodborne Illness in the United States." Centers for Disease Control and Prevention. 19 Aug. 2016. Web. 6 Mar. 2018.
"Current Good Manufacturing Practice in Manufacturing, Packing, or Holding Human Food." 21 C.F.R. §110.40. Web. 5 Mar. 2018.
Powitz, Robert. "Top 7 Processing and Foodservice Equipment Standards." Food Safety Magazine. Aug./Sep. 2005. Web. 5 Mar. 2018.
"Sanitation Performance Standards Compliance Guide." USDA. United States Department of Agriculture. 4 Mar. 2016. Web. 5 Mar. 2018.
Schmidt, Ronald, and Erickson, Daniel. "Sanitary Design and Construction of Food Equipment." UF/IFAS Extension. May 2005. PDF. 5 Mar. 2018.
"Standards for the Growing, Harvesting, Packing, and Holding of Produce for Human Consumption." 21 C.F.R. §112.123. Web. 5 Mar. 2018.
"Surface Conditions - 1910.22(a)(1)." OSHA. Occupational Safety and Health Administration, United States Department of Labor, n.d. Web. 5 Mar. 2018.
"Vertical Conveying of Hygiene-Critical Bulk Materials: A Quick Comparison." Simpro. 30 May 2017. Web. 5 Mar. 2018.