Forklift manufacturers weren't immune to the supply chain woes that followed the COVID-19 pandemic. By 2021, Forklift Action was reporting that parts and materials weren't flowing fast enough to keep up with demand.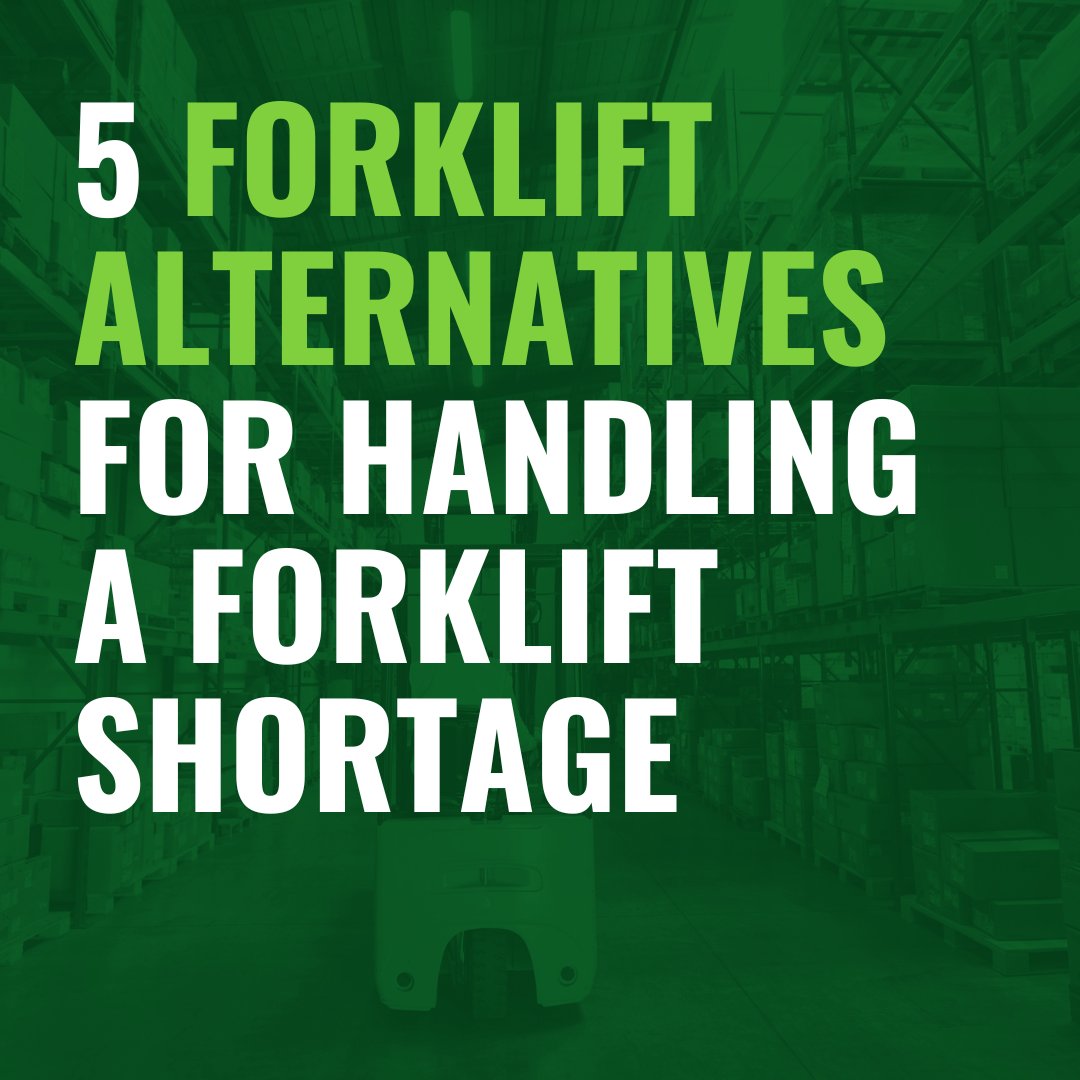 "As a result, we have extremely long delivery times for new factory orders," Clark Europe CEO Rolf Eiten told the trade site in July 2021. At the same time, the demand for forklifts has only grown. The global lift truck market is expected to expand with a compound annual growth rate of 5 percent through 2027, reaching a new high of $53.2 billion by that year.
That means you might have to wait a long while for forklifts to be delivered. Meanwhile, even if you can acquire all the lift trucks you need, there's a general shortage of skilled, certified forklift operators — and you can't operate lift trucks without enough lift truck operators.
These market forces are likely to turn around someday (and hopefully soon). In the meantime, however, what can warehouse operators do to keep up with throughput requirements? It's time to consider other material handling equipment. Here are five forklift alternatives for minimizing the impact of a global forklift shortage.
5 Forklift Alternatives for Material Handling Tasks
While nothing can out-and-out replace a forklift, these tools can help you keep materials moving until more industrial trucks — and operators — become available.
1. Tugger Carts and Industrial Trailers
With a single electric tugger, you can move many pallets, packages, or loose materials — provided you have the right carts and trailers. When forklifts are scarce, this trigger-train strategy can help make up the difference. You can even attach tugger trailers to automated guided vehicles (AGVs) or other autonomous warehouse equipment to automate material handling facility-wide.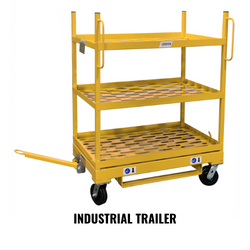 Hitch a row of Tugger Carts and/or Industrial Trailers to your tugger to create a highly efficient pick train, or feed a manufacturing line with any number of components and materials. Solus Group's manufacturing partners provide custom Tugger Carts and Industrial Trailers to meet any need — including pallet mobility. But to load the train in the absence of forklifts, you'll need additional lifting equipment.
Buy Center-Steer Tugger Carts from Solus Group.
Buy Quad-Steer Tugger Carts from Solus Group.
Buy Industrial Trailers from Solus Group.
2. Lift Tables
Scissor Lift Tables elevate heavy loads on demand, and serve as an alternative to forklifts for a few specific tasks. Choose a Roller Conveyor tabletop to transfer pallets or heavy parcels onto waiting carts; the hydraulic lift motor handles the elevation, while the rollers (or Ball Transfer surface) simplifies horizontal movement. That can help keep materials flowing in facilities without enough forklifts.
Buy Lift Tables from Solus Group.
3. Order Picking Carts
If you don't need your loads to be palletized, you can achieve your throughput goals with industrial carts, operated by a single user. Order Picking Carts were built to handle high capacities, with three spacious shelves (more on request) and load limits of 1,850 pounds (839 kilograms) or 3,000 pounds (1362 kilograms), depending on model.
Of course, carts and forklifts solve different material handling challenges. We're not suggesting Order Picking Carts can replace your entire lift truck fleet. But these industrial carts allow each employee to move more materials, faster, than lighter-duty options. They're ideal for order picking, putaway, and many other material handling tasks.
Buy Order Picking Carts from Solus Group.
4. Flat Deck Carts
Flat Deck Carts provide a barrier-free storage surface for items and materials that are too large or awkwardly shaped to fit onto other types of carts. That makes them particularly helpful for moving loads you'd otherwise handle with a forklift. Use a lifting device (like a Lift Table or even a Gantry Crane) to load the cart, then roll it to its location via heavy-duty casters.
For particularly heavy loads, consider motorized push assistance, like the Nu-Star Power Pusher. This alternative to an electric tugger allows a single operator to safely push loads of up to 50,000 pounds.
Buy Flat Deck Carts from Solus Group.
Buy Nu-Star Power Pushers from Solus Group.
5. Vertical Reciprocating Conveyors
Multi-level facilities often use forklifts to move materials between levels, whether that's a mezzanine or a whole second floor. Even when you have all the forklifts you need, that's an inefficient way to achieve vertical transportation.
The most cost-effective alternative is an elevator-like installation called a Vertical Reciprocating Conveyor. These lifting solutions are built to match your material handling needs, so they offer the carriage size, carrying capacity, and lifting height you need. Unlike elevators, however, Vertical Reciprocating Conveyors don't require expensive periodic inspections — because they're designed to lift materials alone, never people.
Explore Vertical Reciprocating Conveyors from Solus Group.
As the forklift shortage drags onwards, it's time to get creative with material handling. And while these forklift alternatives may not do everything a lift truck can, they can be powerful tools to support throughput both before and after your lift truck capacity expands.
Have other material handling challenges? Solus Group can help. Call us at 314-696-0200 to discuss industrial solutions for whatever limits throughput at your facility.