Every operation should keep an appropriate supply of spill response equipment. That includes absorbent pads, booms, socks, and pillows, which contain (and in some cases, neutralize) spilled liquids, allowing for safe, compliant cleanup. To find absorbent materials for your operation, you'll need to perform a hazard assessment. This is particularly important for laboratories and other facilities that work with hydrofluoric (HF) acids and other chemicals.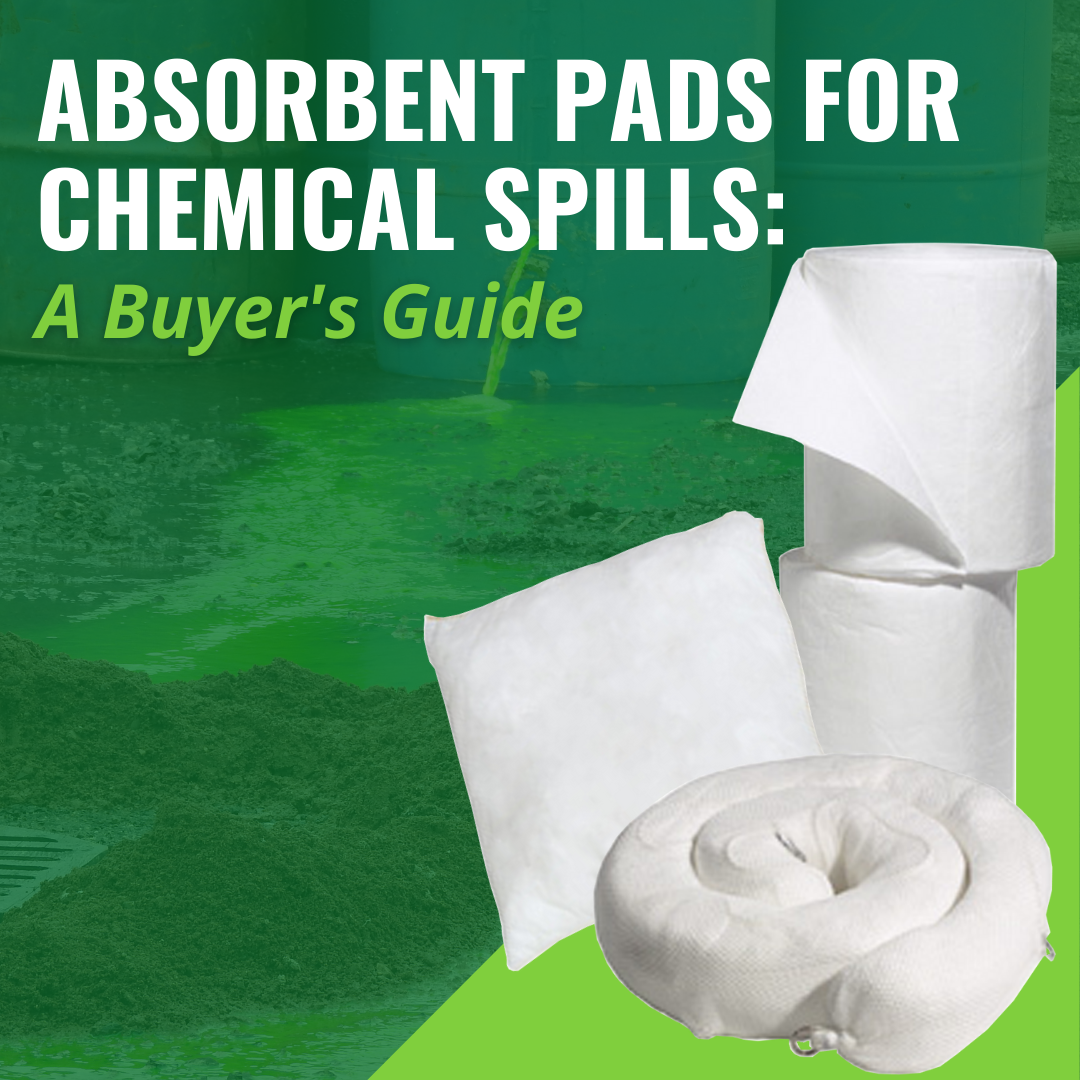 Most warehouses, manufacturing facilities, and other operations will encounter two major hazards on a regular basis: Oils and battery chemicals. To develop effective spill response, you'll need to choose sorbents that are appropriate for these hazards.
In this article, we'll look at some of the best options for chemical spill clean-up. We'll also address training, spill kit placement, and other important considerations.
Is your facility prepared for chemical spills of any size? If not, these Spill Response Kits and Supplies can help.
Finding the Right Absorbent Pads for Chemical Spills
Absorbent pads differ in capacity, construction, weight, and capability. An ideal spill-response strategy will consider each of these factors. It's important to note that some pads are poorly equipped for certain types of spill response, and facilities should keep an ample supply of materials to address all potential hazards — not just the most likely hazards.
In short, employers should make sure that workers have access to enough pads, pillows, socks, and booms to handle any emergency. Managers should also ensure that workers understand how to use those products effectively when the situation arises (we'll address training and spill response safety in greater detail in the next section of this article).
In most facilities, oil creates an especially significant hazard. Workers can slip and fall on oil spills or leaks, and significant spills can endanger equipment and flooring. Needless to say, oil spills need to be addressed immediately with appropriate absorbent pads.
Absorbent Pad Recommendations for Oil Spill Cleanup
Read More: For more information on oil-absorbent pads, refer to our articles: What Are Oil Absorbent Pads Made Of? and Adsorbent vs. Adsorbent: Which is the Best for Spill Response?
Never use oil-selective spill kits to respond to other types of spills. While these products may still absorb the hazard, they will not always neutralize the hazard — that can put workers at risk during the final phases of cleanup.
This is especially important in the battery room. Lift truck batteries contain acid and alkali that can present serious hazards to workers. Employers should choose a spill response kit that is designed for the specific hazard, and Solus Group carries a wide selection of kits to meet the needs of any facility.
Absorbent Pad Recommendations for Battery Acid Spill Response
Battery spill kits typically include acid neutralizers, which allow absorbent materials to contain the hazard while minimizing workers' risk. Some pads and pillows also contain neutralizing substances. However, never rely on the neutralizer alone to completely eliminate the threat — workers should wear appropriate personal protective equipment (PPE) when responding to a spill or disposing of sorbent materials.
By purchasing an all-in-one kit with acid neutralizers, absorbent materials, and PPE, employers can ensure that workers have everything they need to prevent battery acid and alkali from harming personnel or endangering equipment. Of course, your spill response team will still require appropriate training to ensure that the equipment is used properly.
Keep battery spill kits in a visible location within the battery room. Ensure that all employees wear appropriate personal protective equipment when working with batteries in any capacity. That includes tasks like battery watering and charging.
Read More: For more battery room safety tips, refer to Battery Room Safety Tips for Beginners.
Other Considerations When Purchasing Absorbent Pads for Chemical Spills
Great sorbent materials provide an exceptional starting point for safe spill response. However, these materials only work effectively when workers understand how to use them. OSHA requires employee training programs for hazardous waste clean-up, and OSHA regulations can be a useful resource for designing an effective and compliant strategy.
Ensure that your operation has an adequate training policy; keep documentation of all training sessions to aid in regulatory compliance. Provide refresher courses periodically and ensure that only trained (and where necessary, certified) workers respond to hazardous chemical spills.
Most minor spills and leaks can be safely addressed with sorbent pads, pillows, and socks. However, employers should always plan for serious emergencies — that means maintaining eye wash stations and chemical showers onsite and within reach. That aids in compliance of OSHA 1910.151(c), which states:
"Where the eyes or body of any person may be exposed to injurious corrosive materials, suitable facilities for quick drenching or flushing of the eyes and body shall be provided within the work area for immediate emergency use."
Likewise, workers should always know how to quickly reach and access spill response supplies. Consider investing in a PPE Storage Cart to keep PPE organized. When used properly, a PPE Storage Cart can also extend the life of protective equipment.
Finally, remember that chemical spills can occur at any time — even if your facility doesn't work with liquids. Equipment failures and battery room mishaps can easily create hazards, so make sure your workers are protected. Keep adequate supplies of spill response materials on hand and have a policy in place to re-order sorbents regularly.
Industrial Chemical Spill Response Checklist: Make Sure You're Prepared
Use this quick checklist to determine whether your operation has an appropriate response plan in place for chemical spills.
My operation has appropriate absorbent materials (pads, booms, socks, and/or pillows) to respond to all possible spills (oil, battery chemicals, etc.).
My operation maintains an ample supply of acid neutralizers to address spills in the battery room.
All workers have access to personal protective equipment.
I have a training plan in place to ensure that workers understand how to use PPE appropriately.
Workers receive regular training on how to respond to different types of spills.
Workers have access to emergency spill response stations, which include eyewash stations, chemical showers, and other essential appliances.
My operation has protocols in place to dispose of used sorbents in accordance with federal, state, and local regulations.
My operation has a policy for regularly checking spill response inventory and re-ordering supplies before a shortage occurs.
An effective spill response strategy can prevent injuries, protect expensive equipment, and allow for greater efficiency and throughput. For more information, contact Solus Group's sales team at 314-696-0200 or by clicking here.