In most operations, cable drums need to move frequently. One of the most effective ways to optimize throughput is to improve material handling tasks. By reducing the manpower required to transport drums and pay out product, your operation can see an enormous return on investment.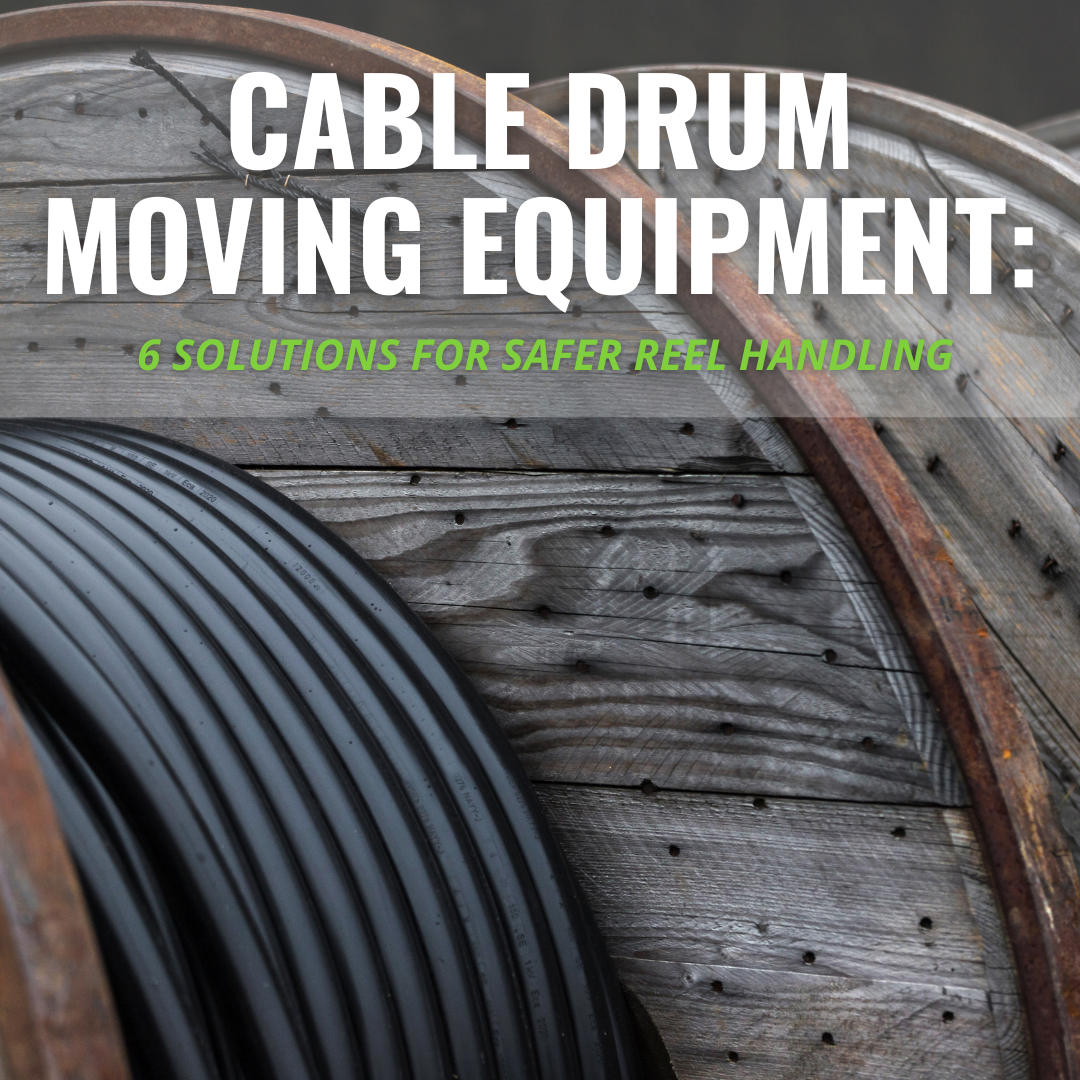 Solus Group offers ergonomic equipment designed to meet the challenges of handling electrical materials. Here are a few potential solutions for cable drum lifting and transport.
Cable Drum Equipment for High-Capacity Storage, Payout, and Transport
Cable drums protect electrical materials during storage and transportation, but they also present challenges for electrical distributors and manufacturers. For safe handling, cables must be transported vertically, and all cables and drums must be in a fixed position during transport. Improper use of material handling equipment can result in impact to the drums — and damage to expensive cables, which typically isn't covered under manufacturer warranties.
Additionally, equipment needs to be ergonomically designed, particularly if workers will pay out wires or cables directly from the equipment. Smooth, clean payout has an obvious effect on productivity. When workers can comfortably draw out materials without awkward positioning, the risk of musculoskeletal disorders (MSDs) falls dramatically.
To address these challenges, start with base jack stands designed for high-capacity storage. Elevating the cables above the ground helps to protect against environmental hazards, which can damage the cable or drum. Using a jack stand can address this issue while also making the cable available for quick payout when needed.
The BHS Reel Stand can accommodate up to five BHS-manufactured Reels, and each unit is equipped with shaft safety locks and four-way fork pockets for optimal positioning during payout. Customization options include casters and floor locks.
For cable drum storage, also consider the The Reel Sherpa™ Stacker and The Reel Sherpa™ Cradle.
The Parallel Reel Payout (PRP) simplifies cable pulling with free-spinning, multi-compartment reels. Available in several configurations to accommodate different reels, the PRP features a four-way pocket design for flexible positioning with a pallet truck. Alternatively, the PRP can be outfitted with casters for easy ground transportation.
The Parallel Reel Payout Wagon (PRW) is a similar material handling solution designed for high-volume cable reel transportation. With an ergonomic pivoting handle and two-way fork pockets, the PRW fits through 34-inch door openings while carrying up to 5,000 pounds of product.
Roller platforms accommodate ergonomic cable payout and can simplify transportation of smaller reels. The Reel Taxi is an easy-to-deploy roller platform optimized for spools with diameters between 12-24 inches.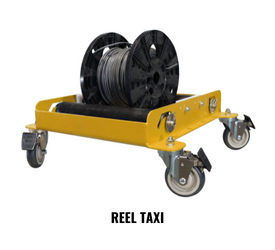 Ideal for data cable, Reel Taxis feature locking casters and adjustable rollers with a durable poly coating and closed bearings. The Reel Taxi is an excellent option for common wiring jobs and has a carrying capacity of 400 pounds.
Cable Reel Forklift Attachments
Most operations have lift trucks — and when moving cable drums, forklifts have obvious advantages. However, trucks need to be outfitted with appropriate attachments to keep cable safe (and to maintain manufacturer warranties).
With the Reel Handler Attachment (RHA), any forklift can safely transport cables or dispense product at an ergonomic position. The RHA includes a safety chain for full engagement with lift trucks, and tapered ends of the Attachment allow fully loaded reels to be loaded easily without heavy lifting.
A removable front wheel stop can be installed in one of five positions to keep cable reels secure, and anti-slide stops built into the rear ensure full containment.
When cable drums can't be lifted from the bottom, the Overhead Reel Lifter (ORL) allows for overhead loading, lifting, and transporting of up to 5,000 pounds of product.
The ORL accommodates spool diameter capacities of up to 59" and spool width ranges of up to 38". A safety chain attaches to either the fork or the mast, and beams include keyhole chain-link slots for quick adjustments when handling cable reels of different sizes.
Turn forklifts into full-service payout solutions with the Dyna Reel Platform Attachment (DRPA). Mountable on lift trucks or pallet jacks, the DRPA promotes efficient payout for cable reels of virtually any size. Features include front roller stops (with a usable width of either 32 5/16" or 37 ⅝") and tie-down hooks for secure transportation.
With appropriate cable drum moving equipment, your team can work more efficiently — and with better ergonomics. To explore customization options or for more guidance, contact the Solus Group sales team at 314-696-0200.