As every construction electrician knows, cable pulling can be slow, challenging work, particularly on greenfield projects. Cable must sit on a flat surface, and workers can't rush the payout process. Doing so could create serious ergonomic hazards or damage the product.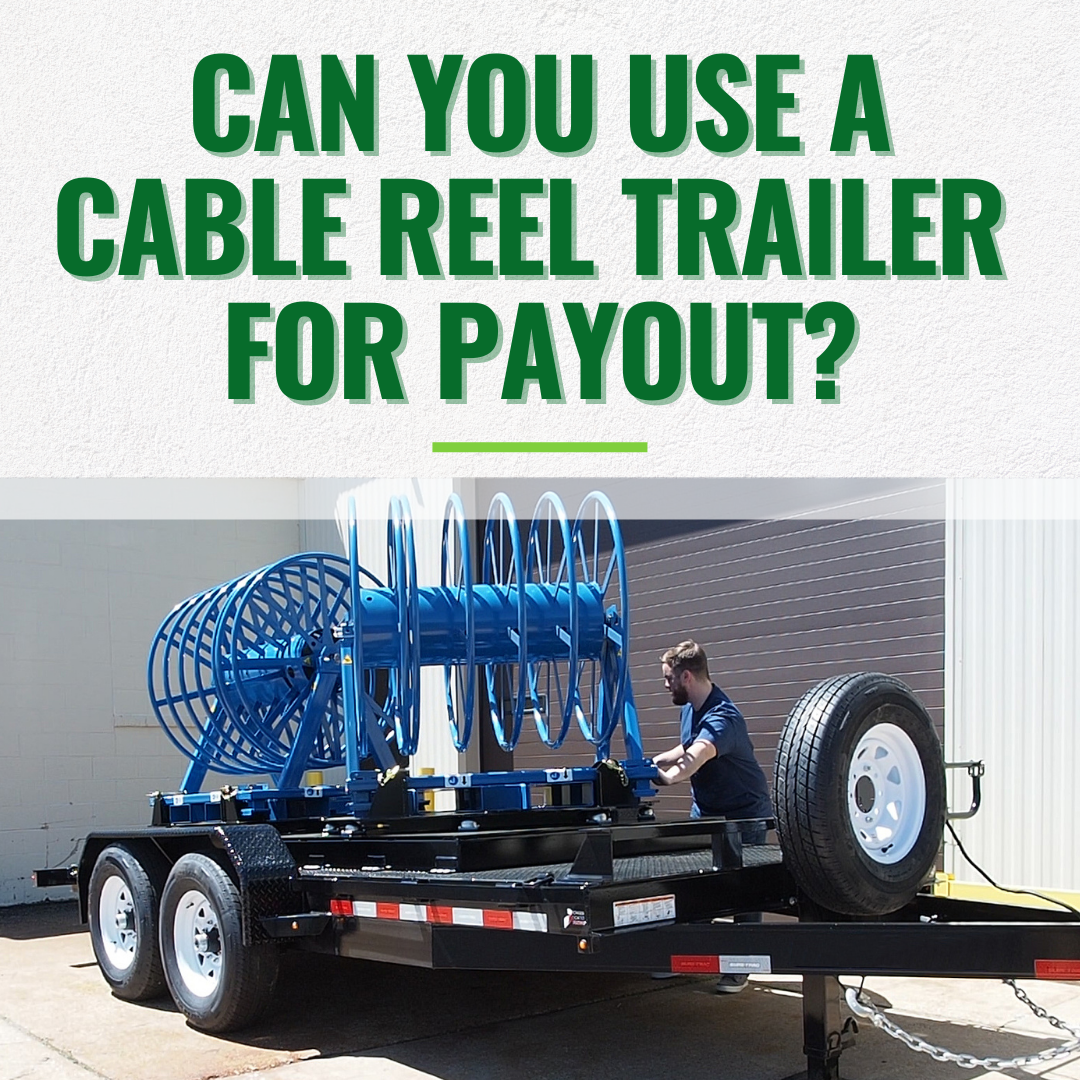 And when electricians move to a new part of the site, the cable needs to follow. The work stops until the product is in position and ready for payout.
Cable reel trailers can make payout more efficient, greatly improving throughput while minimizing product loss. For managers, the right reel trailer is an exceptional investment — and for electricians, a well-spec'd trailer can make the work much easier and less frustrating.
Factors to Consider When Choosing Cable Reel Trailers
As with all material handling equipment (MHE), the trailer needs to be designed for the task at hand. Some reel trailers are built to transport the product, but not for payout; others are specifically designed with payout assemblies.
At Solus Group, we recommend the BHS Parallel Reel Payout Trailer (PRP-TRL), a turnkey solution for dispensing cable at installation sites. Below, we'll explore some of the essential features of a customizable cable reel trailer and explain why the PRP-TRL checks all of the right boxes.
Make sure the trailer can accommodate a variety of reels.
While this might sound obvious, your payout trailer's reel sets must be able to hold the cables that you're pulling. That can become an issue if you're loading different sizes of reels.
Reel assemblies aren't rated by capacity alone. The equipment must be rated for the size of the reels it handles, not just the weight of those reels. If you're working with different types of cable (or different sizes of reels), you may need to customize the assemblies on your reel trailer to accommodate each product.
By working with your equipment provider, you can ensure that the assembly can handle your product in the long term — and avoid an unpleasant surprise on the jobsite.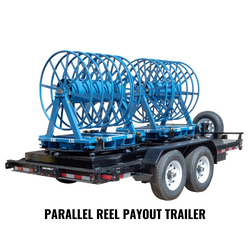 The Parallel Reel Payout Trailer includes two to three Parallel Reel Payout (PRP) units mounted on a single trailer. It can be customized with free-spinning and multi-compartment reels, simplifying the setup work: Workers simply preload the required cable for the job, then head to the installation site.
Look for cable payout assemblies that optimize ergonomics.
A cable reel trailer should serve as an all-purpose solution for onsite payout. While you should be able to remove the reel assemblies from the trailer, your trailer should also support efficient, ergonomic payout directly from the unit — as soon as you've parked the equipment.
The PRP-TRL's reel assemblies are optimized for smooth payout. Features include:
Turntable bases, which allow the reel assemblies to face any direction without repositioning the trailer.
Individual hub locking to prevent unwanted payout when fewer cables are required.
Free-spinning compartments.
UHMW alignment strips for the center shaft to prevent component wear.
An ergonomic approach promotes productivity and limits the chances of musculoskeletal injuries (a particularly significant concern for construction electricians). With the PRP-TRL, workers can easily access wire at appropriate angles — and in the process, minimize lost product.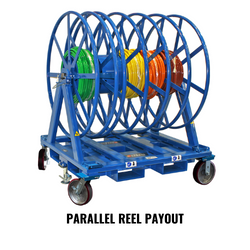 Make sure your cable reel trailer is ready for the trip.
Reel trailers should match standard tractor trailer dimensions to allow for deckover. Again, the PRP-TRL is engineered with that goal in mind: The PRP-TRL-24 includes three rotating PRPs on a 24-foot trailer, allowing for long-haul applications.
The PRP-TRL-24 has a payload limit of 26,000 lbs., while the 22-foot PRP-TRL-22 has a limit of 11,900 lbs. That's plenty of capacity for getting all of your product to the installation site.
Improve Throughput with Custom Cable Reel Trailers from Solus Group
The PRP Trailer is an excellent turnkey solution for construction sites and other electrical installations. When paired with the Spool Winding Trolley, it's also ideal for electrical distributors who offer custom paralleling as a value-added service.
To explore the features of the Parallel Reel Payout and the PRP Trailer, get in touch with our sales team. If you're looking for ways to improve ergonomics and productivity, we're here to help. Our team can help you explore custom options to find equipment that matches your specifications.
Call (314) 696-0200 or click here to submit a request online.