Lift tables play an important role in modern industry. They're fairly simple devices from a technical standpoint — most use a double scissor lift mechanism to position loads at an appropriate working height — but they've helped to prevent countless injuries while improving throughput in thousands of businesses.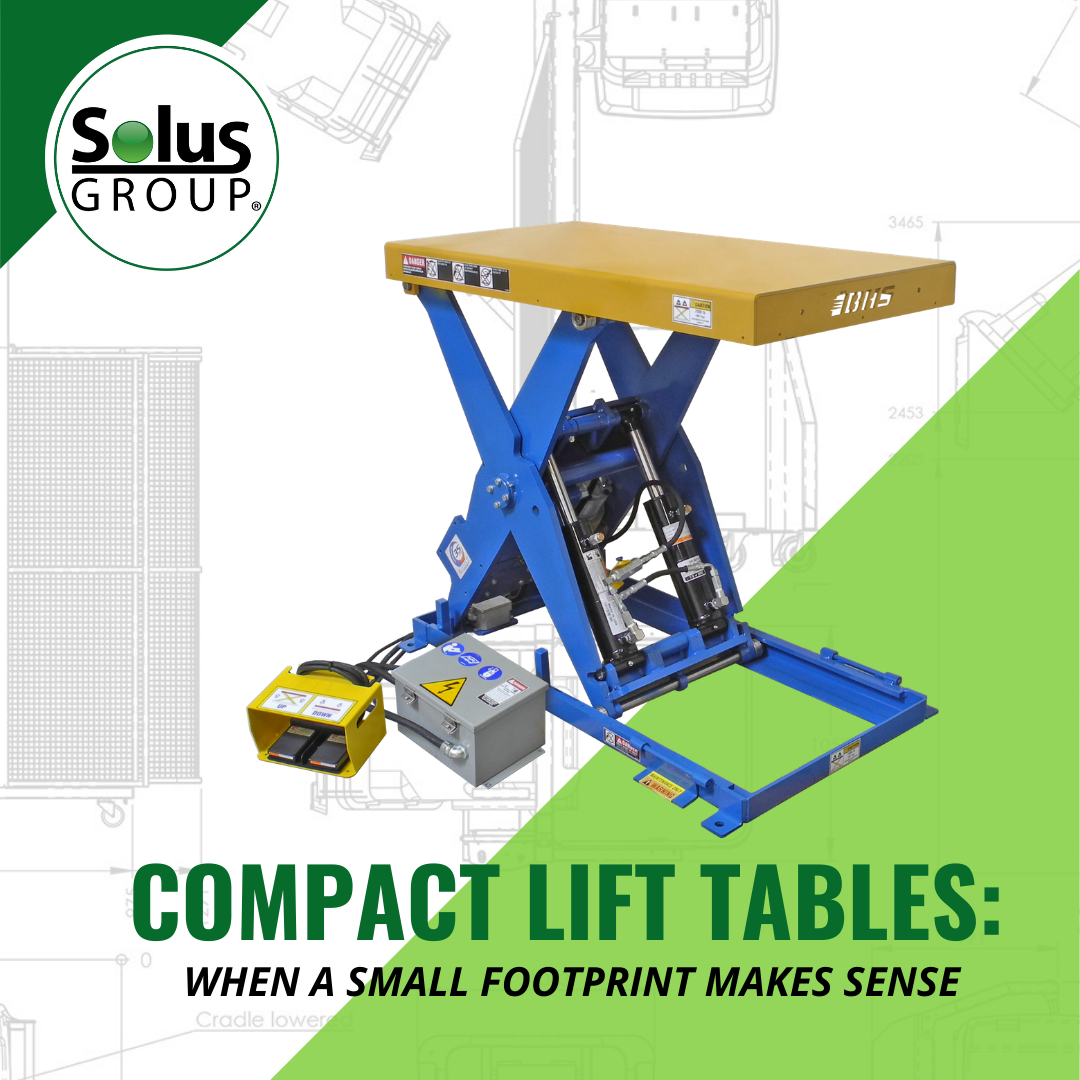 The purpose of a lift table is to keep loads within a safe ergonomic range of workers. This prevents unnecessary bending, twisting, and turning, allowing each worker to move effectively. Add-ons like turntables can further reduce injury risks (and further improve throughput). In recent years, some manufacturers have introduced compact lift tables, which provide these same benefits in work environments with limited floor space.
So, does a compact lift table make sense for your operation?
First, we need to determine what "compact lift" really means (and what it means for your business specifically). A compact lift table is any lift table with a smaller platform designed to optimize floor space. To put that another way, whether or not a lift table qualifies as "compact" will depend on your facility and the application in question.
With that in mind, these factors deserve careful consideration:
Lift Cylinders - Most compact scissor lift tables use hydraulic lift cylinders to keep loads positioned. Pneumatic and mechanical tables are also available, but generally speaking, hydraulics offer the best combination of capacity and affordability — particularly for operations that require smaller lift tables (lift tables may also use mechanical lift cylinders, but we'll discuss those options in depth towards the end of this article).
Lifting Capacity - Compact tables often have lower capacities, but again, "lower" is a relative term. The BHS LT2K scissor lift can position loads of up to 2,000 pounds, certainly sufficient for most purposes. Other tables in the LT series can manage loads of up to 6,000 pounds, and with a 24" x 48"-minimum platform size, they're small enough to ensure ergonomics in tight areas.
Add-On Options - Think about how lift tables will be integrated into your workflow. Tabletop options like roller conveyors and ball transfers allow loads to move between different types of handling equipment with ease, minimizing lifting. For loading/unloading and assembly tasks, a turntable top can add plenty of utility. Choosing the right add-ons will improve worker efficiency, but just as importantly, they can limit the footprint of your material handling equipment.
Additionally, buyers should ensure that any new lift table uses appropriate materials for a long equipment lifespan. A good rule of thumb: American-made products with powder-coated steel tend to offer more dependable operation (and a better long-term return in terms of throughput) than cheaper options. Look for models with few aluminum components, particularly in the lift mechanism.
Material quality is particularly important when choosing compact lift tables that will operate near their listed maximum load capacities. Remember, quality equipment is always a better long-term investment — particularly when that equipment is tasked with keeping workers safe.
Choosing Between Mobile and Stationary Lift Tables
Many compact lift tables are mobile, which can be advantageous for non-permanent workstations. For many managers, movable lift tables seem to offer clear advantages over their stationary counterparts.
However, if the goal is to keep material handling equipment as compact as possible, scissor lift tables are often a better choice. Mobile tables typically have lower capacities than stationary tables, as they use springs to keep loads positioned at a safe ergonomic height — ideal for certain loading/unloading tasks, but less useful when workers need immediate control over the position of a heavy load. Stationary tables also have lower minimal collapsible heights, which can be important for some applications.
Consider whether your workers will actually need to move loads with mobile lifts on a regular basis. If not, appropriately positioned scissor lift workstations are probably a more appropriate choice (be sure to check out our blog on the differences between mobile and stationary lift tables for more information).
With that said, many mobile lift tables are quite compact and maneuverable, and their self-leveling features are well-suited to many manufacturing and processing tasks. The BHS Self Leveling Table (SMLT) series is an excellent example. Capable of lifting 250-750 pounds, SMLT tables have corrosion-resistant casters, formed steel construction, and long-life, steel cam rollers. Workers can adjust spring tension with the labeled graduations, and the SMLT will keep the load at the appropriate level, automatically adjusting for weight changes.
And while the BHS Pallet Carousel & Skid Positioner (PCP) doesn't qualify as a traditional lift table, it's a useful piece of heavy duty equipment for automatically positioning loads on a 360-degree tabletop. The PCP is available with both pneumatic and spring lifting mechanisms, both of which are excellent options for loading/unloading tasks.
The process of choosing material handling equipment can be overwhelming at first, particularly when you're working with limited floorspace. Compact lift tables can make this process easier, provided that you're willing to research options and choose models that are appropriate for your facility.
For specific recommendations for your operation or to learn more, contact Solus Group at 314-696-0200 or click here.