As the federal agency charged with keeping workplaces in the U.S. as safe as possible, the Occupational Safety and Health Administration (OSHA) enforces regulations about personal protective equipment (PPE) in the construction industry — but it's not always easy to figure out what the OSHA PPE standards really mean to employers.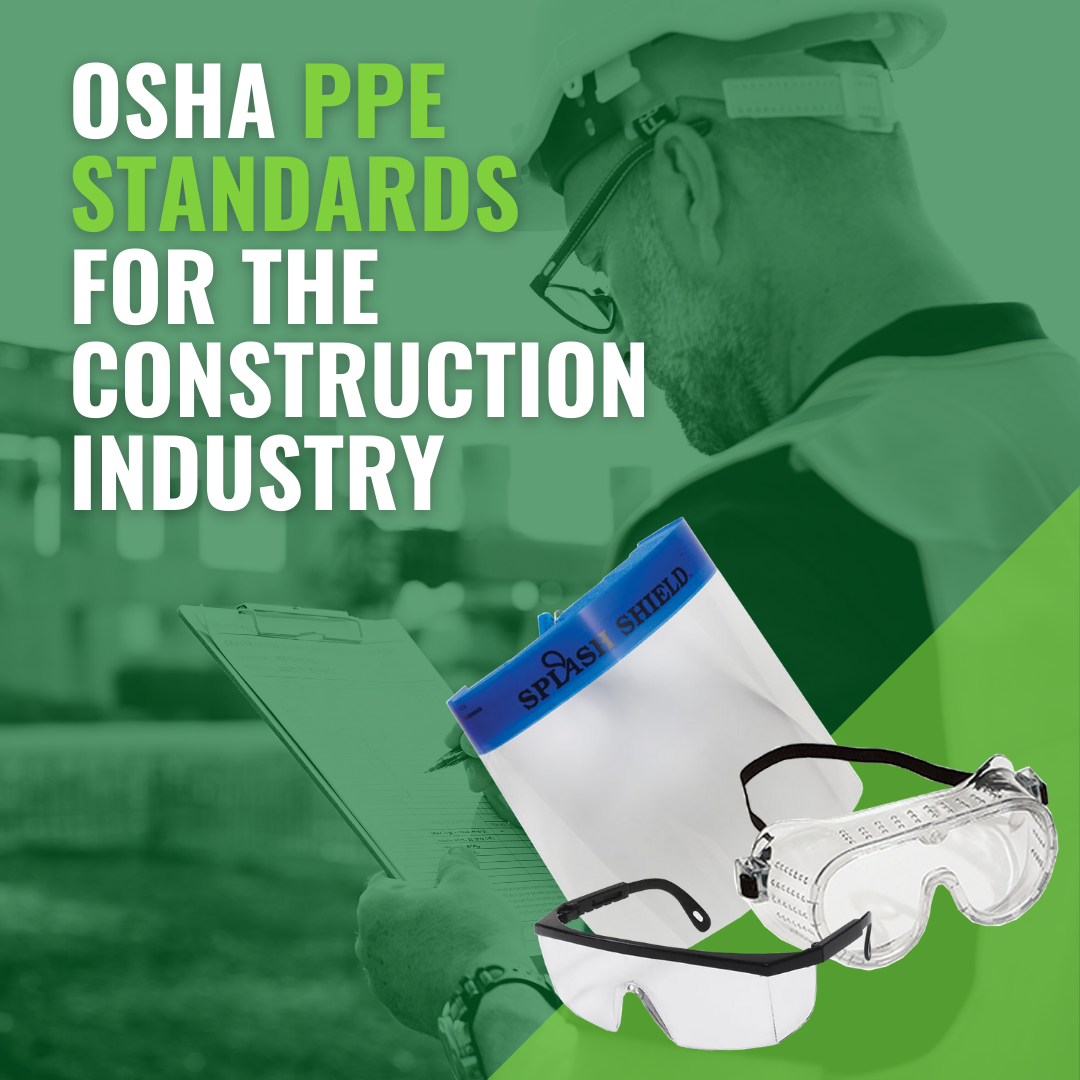 The first thing construction employers need to understand about OSHA PPE standards is where they're located. All OSHA regulations are printed on their website, and broken up into various industry-specific groupings:
The OSHA rules mention PPE in multiple subparts and individual standards scattered throughout part 1926 of the regulations. In the next section, we'll break down key OSHA standards about wearable PPE for construction workers — and make some suggestions about how to ensure compliance.
Note that this article does not constitute and is not intended as legal advice; for detailed assistance on OSHA PPE compliance, contact a qualified OSH law attorney.
OSHA PPE Standards for Wearable Protection
Here are the most important mentions of wearable PPE in OSHA's construction industry standards. Why do we specify "wearable?" It's to distinguish PPE — which, according to OSHA's own definition, is "equipment worn to minimize exposure to hazards" — from other safety equipment, which is often interwoven into the OSHA PPE standards.
This is not to minimize the importance of safety nets, lifelines, and fall protection systems (just to name a few); we may cover these topics in a later post. But for now, we'll focus on the sort of PPE workers put on at the start of a shift and take off when the work day is done. Here's an introduction to OSHA PPE standards for employers in the construction industry.
OSHA Standard 1926 Subpart C: General Safety and Health Provisions
This standard describes one of the employer's key responsibilities pertaining to PPE on construction sites: They must require employees to wear the right PPE wherever "there is an exposure to hazardous conditions."
Compliance notes: At this stage, OSHA isn't describing the type of PPE employees must use, nor does it explain whether the employer or the employee must be the one to provide it. To comply, employers must make the use of appropriate PPE a necessary condition for employment.
1926 Subpart E: Personal Protective and Life Saving Equipment
This section delineates the employers key responsibilities regarding PPE on the worksite. Employers must provide the PPE at no cost — and when employees use their own PPE on the job, standard 1926.95 states that employers must verify the effectiveness of the PPE, including ongoing maintenance and sanitation. There are a few exceptions to this employer responsibility: Employers don't have to provide everyday clothing that may double as PPE, such as steel-toed boots or winter coats. The main point of this regulation is to assure employers that, yes, they do have to pay for their employees' PPE. (This is true for the OSHA PPE requirements in the general industry standards, as well.)
Compliance notes: Not only must employers provide PPE, they must also make sure it's effective, well-maintained, and adequately sanitized. That requires an organized program with clear procedures.
To establish specifications for OSHA-compliant foot protection, this section steers readers to another document: American National Standard (ANSI) for Men's Safety-Toe Footwear, Z41.1-1967.
Compliance notes: It's no use checking steel-toe shoes against ANSI Z41.1-1967—or even its updated edition, ANSI Z41 1999. Both of these standards have been retired. The ANSI standard for foot protection now defaults to two international standards: ASTM F2413-18, Standard Specification for Performance Requirements for Protective (Safety) Toe Cap Footwear, available here for a fee; and ASTM F2412-18a, Standard Test Methods for Foot Protection, also available for a fee.
Because this OSHA PPE standard hasn't been updated, the question remains as to whether OSHA will issue citations for the use of protective footwear that doesn't comply with the expired standard. However, as of 1993, OSHA has stated that it won't issue citations as long as shoes meet the updated standard (then ANSI Z41 1999). This precedent suggests that the Administration won't cite employers as long as footwear meets the specifications listed in ANSI's current recommended documents, ASTM F2413-18 and F2412-18a. For detailed advice, contact a workplace safety attorney.
This OSHA PPE standard requires the use of protective helmets in the presence of hazards like falling objects, head strikes, shocks, and burns.
Compliance notes: Head protection (helmets) must meet the standards listed in any of three documents: ANSI Z89.1-2009, ANSI Z89.1-2003, or ANSI Z89.1-1997. These are three outdated editions of the ANSI standard for "Industrial Head Protection. The latest ANSI standard for Industrial Head Protection is from 2014 (available for purchase here). Again, precedent suggests OSHA won't issue citations based on unavailable or outdated ANSI standards, despite the language of the regulation — and, again, speak to a qualified attorney for verification.
According to this standard, employers must provide hearing protection — ear plugs, ear muffs, or both — when noise exposures meet or exceed certain decibel levels and time limits. These requirements are listed in OSHA standard 1926.52 on occupational noise exposure.
Compliance notes. The standard explicitly states that cotton ear plugs aren't sufficient to protect hearing; employers must invest in effective ear muffs, ear plugs, or similar products. It further states that "competent persons" must guide fitting for ear plugs or other in-ear hearing protection devices.
The list of hazards to face and eye health is long. This standard explicitly mentions (as quoted from the OSHA regulations):
Flying particles
Molten metal
Liquid chemicals
Acids or caustic liquids
Chemical or caustic vapors
Potentially injurious light radiation
Clearly, this list places face protection firmly in the category of chemical PPE.
Read more about this crucial safety equipment in our in-depth guide to chemical PPE.
But eye and face protection covers much more than simple chemical splash protection, as the list above illustrates. According to OSHA, these products must both "provide adequate protection against the particular hazards for which they are designed," and also be "reasonably comfortable." They must fit the wearer properly and be cleanable, too. See the standard for a detailed table on shade numbers for different types of welding filter lenses.
Compliance notes: The standard emphasizes the need for side-eye protection where particles and objects are flying; this means standard glasses lenses are not sufficient. It also refers employers to an ANSI standard for design of eye and face protection. Compliance with any of the following editions of the ANSI Occupational and Educational Personal Eye and face Protection Devices standards also complies with this OSHA PPE regulation: ANSI Z87.1-1989 (R-1998), ANSI Z87.1-2003, and ANSI/ISEA Z87.1-2010; these standards have since been replaced by a later edition, and the standard caveats apply.
Solus Group offers a range of face and eye protection that can assist in compliance with this OSHA PPE standard, including:
Browse the full list of PPE and safety tools from Solus Group here.
This is one of the few instances in which the 1926 standards (for the construction industry) simply cross-reference the 1910 standards (for general industry). Note that the first priority for any employer is to use ventilation or removal of enclosures to avoid contaminated air in the first place. When that's not possible, OSHA standard 1910.134 provides the rules for respirator use. Find OSHA standard 1910.134 here.
Compliance notes: Employers must provide effective respirators for their specific hazardous air conditions. Most importantly, though, any choice of respirators must be part of a broader respiratory protection program. This is a detailed written plan, complete with procedures and respirator specifications, developed by a "suitably trained program administrator." In other words, compliance with OSHA PPE standard 1910.134 requires more than purchasing the right equipment; it takes a concerted, ongoing effort to understand the hazards, plan ways to keep workers safe from them, and ensure that those steps are followed in perpetuity.
More Information About OSHA PPE Standards for Construction
Personal protective equipment is the last line of defense against workplace hazards. It is a broad and vitally important topic, and this article is not intended to be comprehensive — though hopefully it serves as a helpful introduction to OSHA PPE standards and workplace safety more broadly. To learn more about how PPE can keep construction workers safe, according to the experts at OSHA, see this safety and health topic page. For information about PPE and safety tools from Solus Group, call us at 314-696-0200 today.