Purchasing personal protective equipment (PPE) helps your business maintain a safe, productive workplace — but without an appropriate training program, there's no guarantee that workers will use PPE on the job (or use it correctly). OSHA requires employers to provide employees with training on proper PPE usage, but to build an effective training program, you'll need to go above and beyond the administration's guidelines.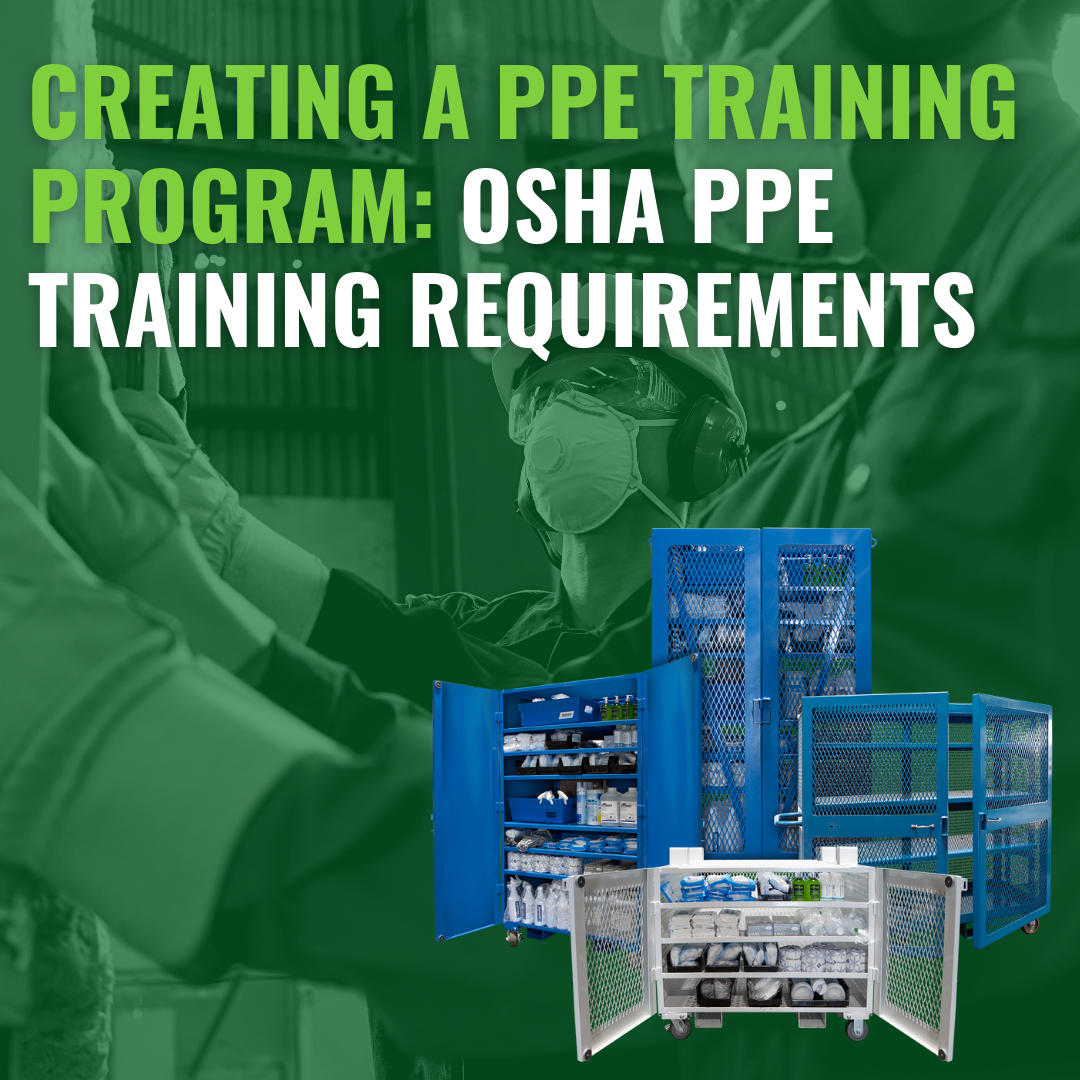 Below, we'll address some important considerations to keep in mind when training employees to use personal protective equipment. This isn't a comprehensive guide — depending on your industry, you may need to consult with hazard assessment professionals to create an appropriate strategy. However, by building a training program as soon as possible, you can establish strong practices to maintain a safer work environment.
Build your PPE training program around OSHA recommendations.
Prior to implementing a PPE training program, you'll need to conduct a workplace hazard assessment, which will provide the insights you need to train employees responsibly. OSHA 1910.132(f), "Training," requires training programs to provide instructions in several areas:
When PPE is Necessary
For most industrial operations, OSHA's requirements for PPE are fairly straightforward (we've detailed the basics in our introduction to workplace PPE article). Review your hazard assessment and communicate relevant information to your staff; if PPE is required for specific tasks, they should understand that they're required to wear it.
Don't leave room for interpretation — provide clear, consistent guidance. Saying something like, "Any task that puts you at elevated risk of injury requires PPE'' is a great starting point, but be specific. Make sure your staff understands why PPE provides improved protection when handling certain tasks. Listen to employee concerns, but explain that PPE use isn't optional; it's part of the job.
What PPE is Necessary
Don't expect employees to choose the right PPE for each task without guidance. Most workers will understand that wearing nitrile gloves provides protection when watering forklift batteries — but some might assume that their everyday work gloves will provide the same level of protection.
For each task, make a list of the required PPE that ensures an adequate level of protection without creating other risks for workers. Explain why each piece of equipment is practically helpful, then make sure that employees have access to the information after you've concluded their training. That includes access to Safety Data Sheets (SDS), which detail the appropriate controls for specific hazards.
Properly organizing your equipment can help employees comply with your PPE program. Label the shelves of a PPE Storage Cart to provide workers with simple, visual indicators. Remember, your employees are much more likely to follow protocols if they don't have to stop and think about what equipment they need to get to work.
Read More: Acid-Resistant PPE for Working with Industrial Batteries
How to Properly Don, Doff, Adjust, and Wear PPE
Workers should understand how to wear PPE properly — and comfortably. If workers struggle with their equipment on a day-to-day basis, they'll either refuse to wear it, work less efficiently, or create other workplace hazards.
This section of your PPE training will vary depending on the necessary equipment for each task. Consult the materials included with your PPE when developing your training; your training should also include information on PPE removal, particularly after exposure to chemical and biological hazards.
The Limitations of PPE
Personal protective equipment can't protect against every hazard. Per OSHA (link opens a PDF), organizations should use the most effective and reasonable controls to provide a safe workplace. PPE is a last resort when other control methods are impractical.
Some tips:
Clearly explain what each piece of equipment does not Face shields, for instance, can provide additional protection from certain hazards, but they're not a replacement for safety glasses or goggles.
Make sure workers understand that their goal is to avoid hazard exposure wherever possible. Clarify your reporting system for safety concerns.
Make sure your employees understand how to respond to emergencies. Provide a clear sequence for removing soiled equipment — and make sure workers understand how to use eyewash stations, spill response kits, and emergency procedures.
The Proper Care, Maintenance, Useful Life, and Disposal of PPE
No equipment lasts forever. Employees should understand how to maintain their equipment without creating safety risks. For example, gloves and aprons should not be re-worn after a hazard exposure — and if a certain item is designed for a single use, employees need to understand that information.
Many employers combine their PPE training with other safety training. By covering the basics of ergonomics, emergency response, and PPE in a single training session, you may be able to improve compliance with your policies; however, avoid overloading employees with information.
Keep documentation of all PPE training, and be prepared to re-train employees.
OSHA requires employees to maintain documentation relevant to PPE training. While compliance is a crucial consideration, documenting your efforts can be extremely beneficial in other ways: You'll be able to easily schedule "refresher" training sessions for employees, and if you need to revise your PPE program, you'll have an excellent starting point.
If employees regularly encounter workplace hazards, consider requiring refresher training courses at least once per year. OSHA guidelines require retraining under three specific circumstances:
132(f)(3)(i) - Changes in the workplace render previous training obsolete.
132(f)(3)(ii) - Changes in the types of PPE to be used render previous training obsolete.
132(f)(3)(iii) - Inadequacies in an affected employee's knowledge or use of assigned PPE indicate that the employee has not retained the requisite understanding or skill.
Keep these circumstances in mind when making any changes to work processes or the physical layout of your workplace. For example, if you expand your operation's battery room, you may need to relocate your PPE storage lockers — that provides an excellent opportunity to test employees' knowledge of proper procedures and retrain any workers who cannot demonstrate the required skills.
If any employee forgets to wear PPE during a crucial task — or misuses the equipment in any way — consider mandatory retraining. This ensures compliance with 1910.132(f)(3)(iii), and it's also a great common-sense practice to enforce your PPE rules in a positive way.
When training employees to use PPE, focus on the benefits — not the OSHA requirements.
Your training should include references to relevant OSHA guidelines, and your team should understand that as an employer, you have a responsibility to provide personal protective equipment and to create the safest possible work environment.
However, don't focus too much on compliance when training; instead, focus on the actual benefits of safety. Workers shouldn't feel as though the rules are unnecessary or optional. Some concepts to keep in mind:
Safer workplaces are more productive. Some workers (and managers) may believe that personal protective equipment limits throughput, but that's not the case: According to research published in Occupational Health Science, employees are more efficient when they understand that their employer prioritizes safety and health.
By learning about PPE, employees can work more comfortably. High-quality PPE shouldn't get in the way of the work. As we discussed earlier, a key component of proper PPE training is learning to wear the equipment properly. Make sure employees understand that their training will help them stay comfortable on the job.
Safety is a team effort. Give employees a chance to ask questions and suggest improvements. As with other types of safety training, PPE training offers a fantastic opportunity to improve employee engagement and build a collaborative culture.
Finally, don't be afraid to make your training procedures fun. While "fun" and "safety" might seem like unrelated concepts, your primary goal is to help employees remember the information. If they're watching the clock waiting for the training to end, they might miss important details.
Before training employees, create a process for ordering and stocking the correct PPE.
Of course, employees can't use personal protective equipment consistently if they don't have access to it. Solus Group provides employers with all-in-one PPE kits and individual products, along with storage solutions to improve efficiency and aid in OSHA compliance.
Products to consider:
For More Guidance: Chemical PPE for the Workplace
With the right equipment — and appropriate training procedures — your organization can maintain a safe and productive workplace. For more information or to discuss PPE outfitting options, contact our sales team at 314-696-0200 or by clicking here.