The warehousing and storage industry employed well over a million people in 2019. More than 300,000 of those employees were manual material handlers, the largest occupation of any in the sector. (By contrast, there were only 12,500 managers and fewer than 200,000 industrial truck operators.) These statistics illustrate the central role manual material handling continues to occupy in our global logistics systems.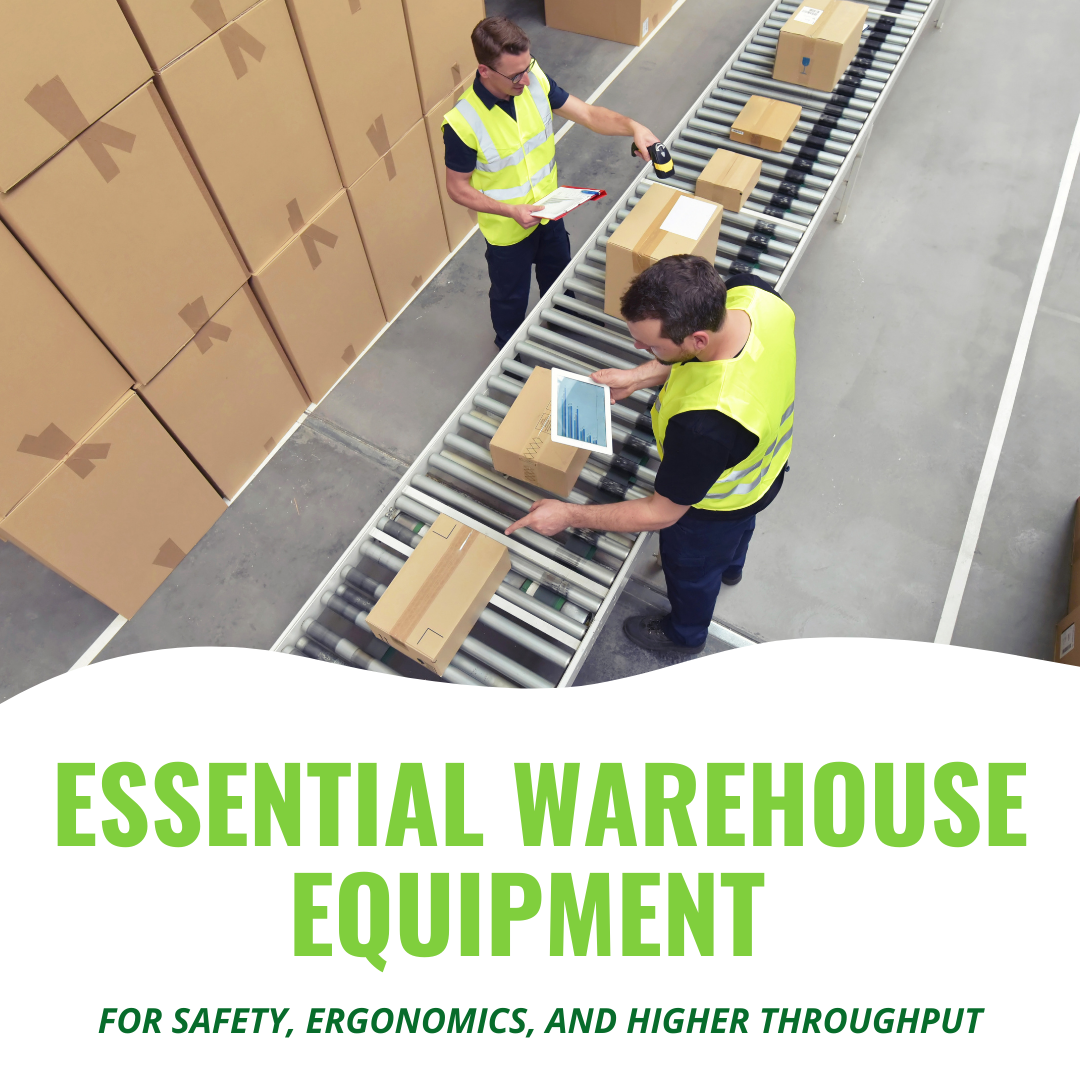 But material handlers can't do the job without the right warehouse equipment, and identifying those tools isn't always straightforward. From Order Picking Carts to Battery Room Signage, warehouse workers need products built to prevent injuries, meet productivity goals, and simplify day-to-day tasks. So how do you know what you need to ensure success at your facility? Start with this basic warehouse equipment checklist, complete with essential items and examples of products that meet most material handling needs while providing a quick return on investment.
Warehouse Equipment for Safety, Traffic Control, and Hazardous Material Response
Warehouse safety remains the industry's top priority. Still, warehouse workers suffered injuries and illnesses requiring days off work at more than twice the rate of the national average in 2019 (3.7 injuries per 100 warehouse workers vs. a national average of 1.6 per 100 for all occupations). Clearly, there's still work to do to create safer workplaces. The following equipment can help.
Ergonomic Material Handling Carts
Musculoskeletal disorders (MSDs) are injuries to muscles and bones, as the name implies, but they also affect spinal discs, nerves, tendons, and other soft tissues. They're a leading cause of workplace injury, accounting for 30 percent of U.S. workplace injuries requiring days off work in 2018. That year, laborers and freight, stock, and material movers suffered more MSDs than any other occupation, with nearly 10,000 cases more than the second most-injured job category.
Ergonomic warehouse equipment cuts down on MSDs by removing the most common causes of these injuries: heavy lifting, awkward postures, prolonged muscular strain. Material handling carts from Solus Group feature industry-ready design and ergonomic features that keep workers safe while improving overall productivity. Here are some of the options that work particularly well in the warehouse environment.
Warehouse Trailers for Order Picking Trains
Warehouse managers can sometimes improve overall throughput by implementing new order picking strategies, such as wave or batch picking. Many of these techniques work most efficiently with picking trains, which include an electric tugger (or even an automated guided vehicle [AGV]) attached to multiple Warehouse Trailers. Depending on the common SKUs you handle, and overall facility layout, your picking train may include one or both of the following types of Warehouse Trailers.
Center Steer Warehouse Trailers function perfectly in narrow aisles thanks to a fifth caster in the center of the unit, which allows these models to turn on a dime. Heavy-duty construction and a 2,500-pound capacity make them ideal for picking orders in virtually any warehouse or distribution center.
Quad Steer Warehouse Trailers follow tuggers and AGVs in a tight, predictable pattern to create long, safe picking trains in any environment. Standard shelving dimensions of 36 inches by 60 inches provide plenty of storage, while models are available with capacities of 2,500 pounds and 5,000 pounds.
Warehouse Equipment for Work Positioning and Order Packing
Order pickers aren't the only warehouse employees at risk of developing musculoskeletal disorders. Packers, kitting staff, and the workers who provide other value-added warehousing services can be subjected to repetitive motions and awkward reaches throughout their shifts. Remove these risks with work-positioning equipment like the following.
Waste Handling Equipment for Warehouses and Distribution Centers
Simplify your sustainable materials management plan — or simply limit the time employees spend handling waste — with warehouse equipment built for the task. Lifting and emptying bins is an ergonomically risky task, since it requires workers to lift, twist, and bend all at once. By providing waste handling equipment that removes the risk, employers can prevent injuries while freeing more resources for throughput.
Tilt Cart Dumpers empty waste containers off of docks and into dumpsters, removing a risky task for operators. These electric material movers plug into standard 120-volt outlets to charge, and fully enclose carts for the safest dock-to-dumpster waste handling experience available.
Bin Dumpers lift and empty trash cans, bulk bins, and even drums without placing a strain on operators. Choose the assisted winch-operated Ezi-MT Bin Dumper for relatively light-weight waste-handling tasks, or upgrade to the Multi-Tip for hydraulic power and a higher capacity. For heavy-duty dumping tasks, try Dumpmaster models, which handle containers of up to 550 pounds.
Garbage Bins and Wheel Carts are available in a range of styles, capacities, and colors. This variety helps to divert waste into multiple streams, from landfill-bound to recyclables to compost. Toter Wheel Carts are built to withstand industrial environments and are ideal for warehouse use. For higher-capacity waste storage, choose Mobile Garbage Bins, available with or without tow hooks.
Learn More About Ergonomics and Warehouse Equipment
Looking for other ways to improve ergonomics at your warehouse or distribution center? Try the OSHA ergonomics checklist to find trouble spots hindering workplace safety and productivity. You may find the solution to your ergonomics challenge on the list above. If you need more information about ergonomics, productivity, or warehouse equipment's role in improving both, call Solus Group at 314-696-0200 today.