Industrial operations invest heavily in material handling equipment to move materials in, around, and out of facilities. But one material tends to get overlooked: Waste. Neglecting waste management infrastructure can lead to measurable inefficiencies, as employees struggle to drag heavy trash cans to dumpsters. Without the right equipment, emptying the trash can even lead to injuries.
You wouldn't ask an order picker to work without an Order Picking Cart. So why not apply the same thinking to your outbound waste stream? The right tool for the job, in this case, is commonly called a wheelie bin.
WHAT IS A WHEELIE BIN?
A wheelie bin is a trash can, cart, or even small plastic dumpster that contains at least two wheels. In Europe, they sometimes go by the name "Euro bin." In North America, you might call them Roll-Out Carts or Mobile Garbage Bins. But however you designate them, they're the key to efficient — and ergonomic — waste handling at businesses of all sizes.

As our definition implies, many types of waste containers fall under the "wheelie bin" umbrella. How do you know which model is best for your unique use case? Here's a guide to the various types of waste receptacles commonly described as wheelie bins — plus some tips on matching the bin to the task.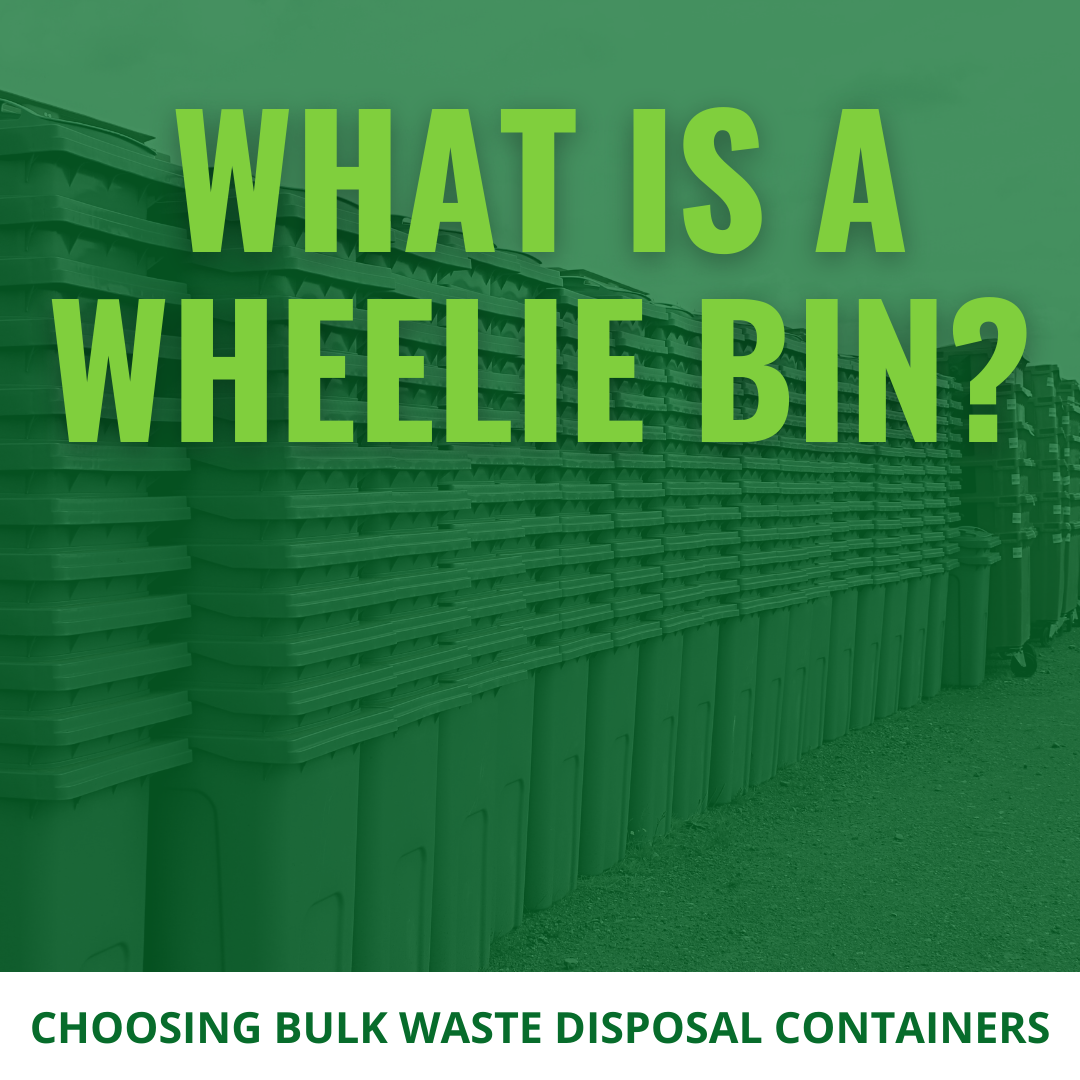 How Wheelie Bins Fit into Facility Waste Management Plans
In 2018, people in the United States generated more than 292 million tons of municipal solid waste (MSW) in our homes, schools, businesses, and other institutions. That adds up to nearly 5 pounds of waste per person every day. About half of that waste came from commercial facilities, and half from residences, at least as of 2013, the last time the Environmental Protection Agency (EPA) released figures.
These statistics are from different years, so it's hard to say how much waste the commercial sector creates, let alone industrial operations in particular. But it's certainly measured in millions of tons. To efficiently manage such a large materials stream, it helps to treat waste similarly to the way manufacturers approach intralogistics — optimizing material flow throughout the facility.
Efficient intralogistics isn't possible without material handling equipment tailored to the job. Wheelie bins have the same relationship with your waste stream, and they're necessary at several stages of your facility's waste management process. These stages include:
1. Point of Origin
This is where waste begins. Here, trash cans don't always need wheels. They may be desk-side waste-paper baskets or bulk collection stations. However, in heavy industrial environments — such as manufacturing floors or packing stations — high-capacity wheelie bins can simplify waste management by preventing the need to empty stationary bins into mobile units.
2. Route to Collection Point
Once point-of-origin waste bins are full, staff must transport them to temporary storage receptacles. In the simplest systems, that means an outdoor dumpster, ready for pick-up by your commercial waste collection service. Plan these routes the same way you would any intra-facility materials flow.
Look for routes that provide the shortest, safest path from origin to collection point. Note elevators, aisle width, turns, and elevators or lifts within the path. Knowing these details will help you choose wheelie bins that can make the trip safely and efficiently.
3. Transfer to Dumpsters
Once the wheelie bin reaches your final collection point, how will staff empty the bin without too much strain? Will they dump bins from a dock, or do they need to lift them to reach a dumpster lip? How high is the lift? These considerations are especially important if you use high-capacity wheelie bins. They can also help you choose bin-handling equipment that removes the strain from lifting and tipping bins.
At each of these stages, the key value of a wheelie bin is that it both contains and transports bulk waste materials. That makes wheelie bins essential waste-handling infrastructure for efficiently transporting waste throughout the facility. To understand how, let's take a look at some of the major categories of wheelie bins currently available from Solus Group.
Types of Wheelie Bins for Commercial Operations
All wheelie bins have wheels, by definition. But the number and configuration of these wheels differs from product to product. So do the capacities, designs, and intended applications. Here are some of the top categories of wheelie bins you might need to streamline your waste-handling operation—along with some tips on choosing for specific applications.
Roll-Out Carts
High-volume, two-wheeled, HDPE plastic Roll-Out Carts are the most common type of wheelie bins. At Solus Group, we offer Cascade's ICON Series of Roll-Out Carts, available in 35-, 63-, and 96-gallon capacities. These are the wheelie bins municipalities furnish for residential garbage services, but they're equally at home in the office, factory, or warehouse.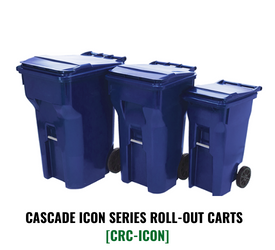 In an industrial waste stream, Roll-Out Carts are ideal for transporting waste from the point of origin to the dumpster. If you generate high volumes of waste in an area of your business, replace wheelie bins with Roll-Out Carts for safer, more efficient waste flow.
Even the 96-gallon model fits easily through standard doorways, navigates tight turns on a dime, and simplifies transport with an integrated push bar. Cascade ICON Series wheelie bins are UV stabilized to protect from sun damage, and optional lids keep the weather out — these are ideal for indoor/outdoor use. These rolling waste bins also include standard RFID tags, so they're ready for integration into industrial asset tracking systems.
Explore Cascade Icon Series Roll-Out Carts.
Mobile Garbage Bins
For even higher-volume waste collection and transportation scenarios, upgrade from two wheels to four. Mobile Garbage Bins from Solus Group are high-capacity, HDPE plastic wheelie bins with capacities of 174 gallons (660 liters, or .75 yards) or 290 gallons (1,100 liters, or 1.5 yards). Despite these high waste-handling volumes, Mobile Garbage Bins occupy a compact footprint, making them ideal accumulation points for waste and recycling in factories, warehouses, schools, offices, and residential buildings.
The HDPE plastic used in Mobile Garbage Bins resists heat, sunlight, chemicals, and freezing temperatures, making an ideal indoor/outdoor wheelie bin. Ergonomic handles on side-walls and lids simplify transportation. This combination of design features make these four-wheeled wheelie bins suitable for all three stages of facility waste flow:
Station Mobile Garbage Bins in areas that generate high volumes of waste, like production floors or shipping/receiving rooms to reduce dumping trips and improve overall productivity.
Smooth-rolling casters and ergonomic push bars allow employees to conveniently transport waste loads to collection sites. The 174-gallon model fits through standard doorways, with a width of 30.7 inches, while the 290-gallon unit requires wider openings, due to a 42.1-inch width.
Weather-resistant design and lockable lids allow Mobile Garbage Bins to act as outdoor dumpsters in many cases. Station them at the dock or in alleys for convenient collection by waste-removal services.
Buy Mobile Garbage Bins from Solus Group.
Tilt Trucks
Tilt trucks are high-capacity, two-wheeled wheelie bins designed for both waste transport and simple tipping. Wheels double as a fulcrum for tipping action, and an angled front wall reduces the forward angle for emptying contents. Most models include a rear push bar for easier handling and tipping.
This specialized wheelie bin is typically used in dock-to-dumpster tipping — but manual dumping from height can be dangerous. If you elect to use tilt trucks in the second and third stages of waste flow, improve safety and efficiency with a Tilt Cart Dumper, a specialized Bin Dumper designed to empty tilt trucks while keeping workers safely away from dock ledges, while removing the risk of muscular sprains, strains, and tears.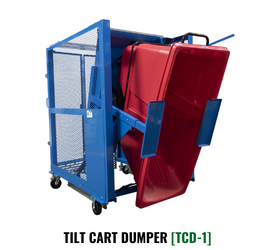 Buy Tilt Cart Dumpers from Solus Group.
Tilt Cart Dumpers are just one type of material handling equipment that removes ergonomic hazards associated with wheelie bins. Here's an overview of the support equipment that can complete your wheelie bin-based waste handling operation.
Read More: Industrial Trash Can Buying Guide
Material Handling Equipment for Wheelie Bins
Lifting and emptying wheelie bins is an ergonomically risky task. The U.S. Centers for Disease Control and Prevention describe musculoskeletal disorders (MSDs) as "disorders of the muscles, nerves, tendons, ligaments, joints, cartilage, or spinal discs that are caused by sudden or sustained physical exertion…"
Such physical exertion includes lifting, pushing, pulling, or carrying heavy loads, as well as awkward motions like twisting the body under load. The act of emptying a wheelie bin includes many of these risk factors.
It also isn't very efficient. Material handling equipment like Bin Dumpers and electric tuggers improve waste-handling productivity while also providing powerful safety protections. Here are some of the products to consider in support of a wheelie bin fleet:
Bin Dumpers
Bin Dumpers from Solus Group lift and tip wheelie bins (and other bulk containers) with a unique tilting motion that keeps weight over the unit's frame at all times. That improves stability and allows a single user to effortlessly dump bins in record time.
For wheelie bins in light-duty applications, like paper or plastics recycling, choose the winch-operated Ezi-MT Manual Bin Dumper or the hydraulic-powered Multi-Tip Bin Dumper. The Dumpmaster offers a greater lifting capacity, along with a fully enclosed lift track. And for dumping from dock-height, choose the Dockmaster Hydraulic Bin Dumper.
To handle high-capacity, four-wheeled wheelie bins, use the MegaDumper Hydraulic Bin Dumper. With a weight limit of 1,320 pounds (600 kg), this mobile unit is ideal for industrial waste handling applications.
Electric Tuggers and Pushers
Wheelie bins are built to be pushed by hand, but when fully loaded, Mobile Garbage Bins may require two employees for safe travel — unless you provide assistance with the Nu-Star Power Pusher. This electric tugger/pusher allows a single employee to roll extremely heavy carts, with a maximum push force of 50,000 pounds. You can even hitch Mobile Garbage Bins together to create a waste-handling train, piloted by just one operator with a Nu-Star Power Pusher.
Wheelie Bin Washing Equipment
To maintain sanitary facilities, it's important to wash your wheelie bins periodically. But washing a bin entails some practical challenges: You have to tilt the bin at an angle that will allow wash water to flow out, ideally at the proper ergonomic height.
The Bin Blaster from Solus Group accomplishes this task without muscular strain. It also includes an extendable drip tray and debris bucket, catching overflow for a more hygienic wash. The Bin Blaster supports wheelie bins from 22 gallons to 290 gallons in capacity.
Wheelie Bins and Related Equipment from Solus Group
Solus Group is North America's only distributor of Simpro Bin Dumpers, and we carry a full range of wheelie bins and support equipment to complete your waste-handling infrastructure.
Explore waste-handling solutions from Solus Group here.
For help choosing the perfect wheelie bin for your use case, contact the Solus Group sales team at 314-696-0200.