Bin dumpers are specialized material handling equipment (MHE) that safely lift and empty trash cans, bulk ingredient containers, and other receptacles. They're commonly used for industrial and commercial applications in Europe, Australia and Asia, but in recent years, they've become essential equipment in many U.S. industries.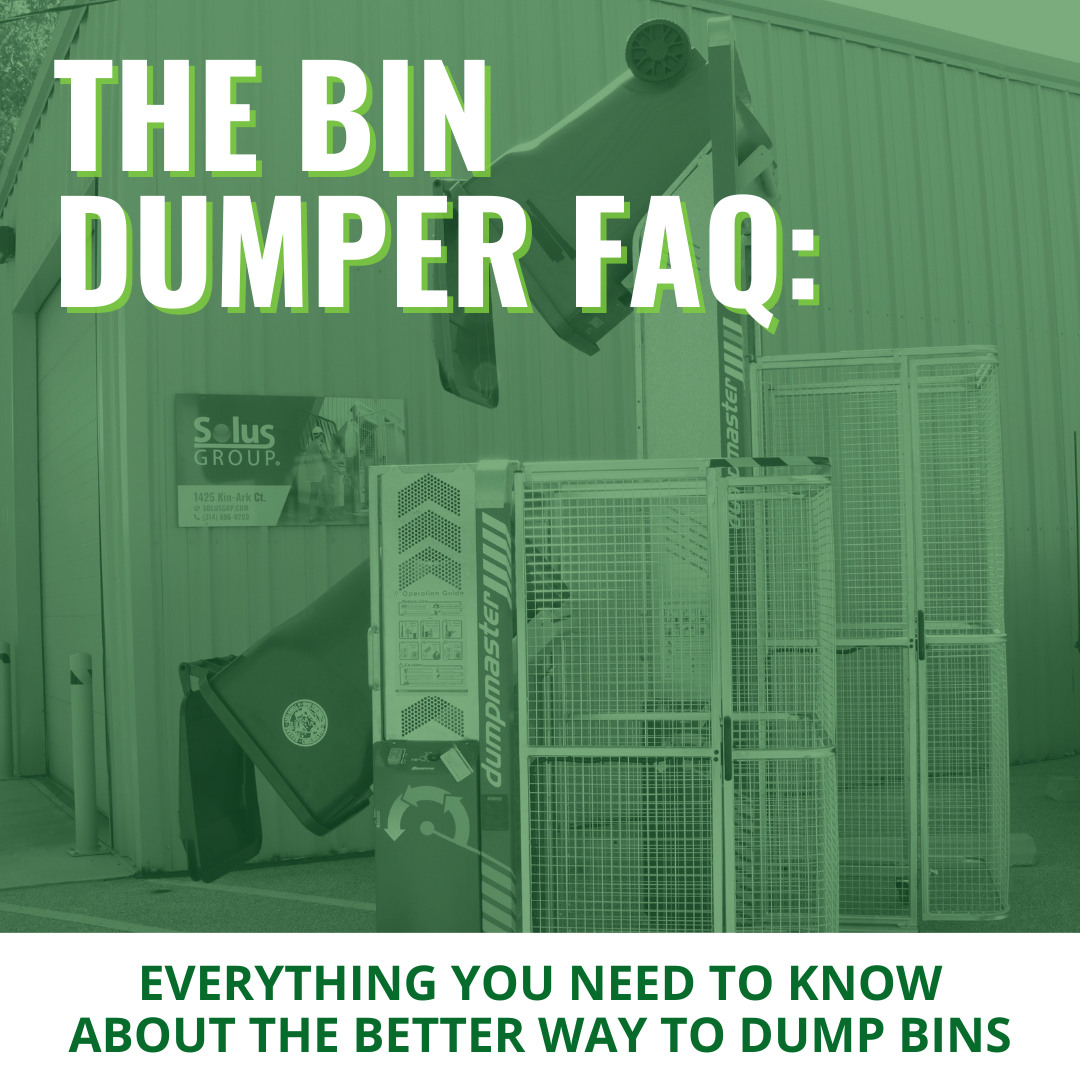 Any MHE that lifts heavy materials can improve efficiency and safety — but dumpers are an especially crucial tool in modern warehouses, retail stores, and distribution centers.
Common Bin Dumper Questions (And Answers)
Below, we'll address common questions about bin dumpers and provide suggestions for finding the right option for your facility. If you need help choosing an option, we're here to help — call 314.696.0200 to speak with a member of our sales team.
What are the benefits to using a bin dumper?
According to the Occupational Health and Safety Administration (OSHA), about 1.8 million workers report musculoskeletal disorders (MSD) each year. Many of those injuries could be prevented with proper ergonomics: the science of fitting the task to the worker.
Bin dumpers automate common tasks that would otherwise require workers to lift heavy loads in awkward positions. That may be as simple as emptying a trash can or dumping ingredients into a bulk mixer — but regardless of the complexity of the task, ergonomic equipment helps you run a safer facility.
Other benefits of the equipment include:
Anyone can operate a bin dumper. Lifting and emptying tasks can be assigned to any worker.
Bin dumpers can handle high-capacity loads that would otherwise require several able-bodied workers.
Many bin dumpers are mobile and can be navigated easily through narrow aisles. Some bin tippers are only slightly wider than the containers they lift.
Bin dumpers are an affordable option for virtually every type of facility.
Many models can be customized to handle specific tasks (for instance, with stainless steel surfaces for food production applications).
What types of facilities should use bin dumpers?
Simply put, if you're lifting and emptying loads, bin dumpers will make the job much easier and safer. It's important to remember that bin dumpers aren't just for garbage cans — with different cradles, they can handle virtually any type of container.
Smaller bin dumpers are widely used in churches, schools, retail stores, while heavy-duty hydraulic models are most appropriate for warehouses, storage facilities, commercial bakeries, and other industrial operations.
Related: From Bin to Drum Dumper: Converting Bin Dumpers into Drum Dumping Equipment
Are there alternatives to using bin dumpers?
Other MHE may serve the same purpose as a bin dumper, but specialized tasks require specialized equipment.
Bin dumpers are designed to be compatible with common bins and industrial containers, which makes them easy to load and use. Bin Dumpers have simple handle-mounted controls and powerful lifting mechanisms — the Multi-Tip Bin Dumper, for example, can empty a trash can filled with 330 pounds of waste in just 20 seconds.
What's the difference between a bin dumper, a bin tipper, a box dumper, and a tote dumper?

There's no difference — all of these terms are used to describe the same equipment. In the United States, "bin dumper" is more common, while in other regions, "bin tipper" is the preferred terminology.
What types of bin dumpers are available?
Solus Group offers various models designed to handle loads of different capacities. Popular options include:
All Bin Dumpers can be outfitted with custom cradles, chutes, and other customizations for specific applications. For more guidance, read: Choosing a Mobile Trash Can Lifter for Your Business.
How are hydraulic bin dumpers powered?
Most models have a sealed gel battery with a built-in float charger. Digital battery indicators allow operators to quickly assess the power level and charge the unit when necessary.
The Dumpmaster, Dockmaster, and Megadumper are available with sealed batteries or with 3-phase power.
My facility uses specialized containers. Can we use bin dumpers?
Yes. While Bin Dumpers are designed to accommodate standard containers, customizations are available — and specialized equipment like the Tilt Cart Dumper (TCD) may also address your operation's needs.
To discuss a custom application, contact Solus Group's sales team at 314.696.0200 or email us at [email protected]
Do bin dumpers require maintenance?
All types of material handling equipment require basic maintenance, but bin dumpers — when properly designed — don't require much upkeep.

Bin Dumpers feature sealed batteries and hydraulics, which protect workers and prevent excessive wear to the lifting mechanism. A chemical-resistant powder coat allows the Bin Dumpers to be used in a variety of environments while retaining their finish, and galvanized components provide weatherproofing for indoor/outdoor use.
If you're looking for ways to reduce maintenance costs in waste handling, the Bin Blaster BB1000 is a smart solution. With the turn of a lever, the BinBlaster lifts and tips bins onto their side at the most ergonomic height for manual washdown. Learn more about the Bin Blaster.
Where do you buy bin dumpers?
Explore your options and order directly from Solus Group by visiting our Bin Dumpers & Bins page. Our sales team can also help you outfit your facility and recommend options that maximize efficiency — call us at 314.696.0200 to get started.