Commercial trash dumpsters aren't the most exciting purchase, but they play an important role in keeping your facility clean and organized. The right dumpsters — when properly placed — can improve efficiency and throughput. After all, there's a reason why lean manufacturing experts focus on keeping things clean.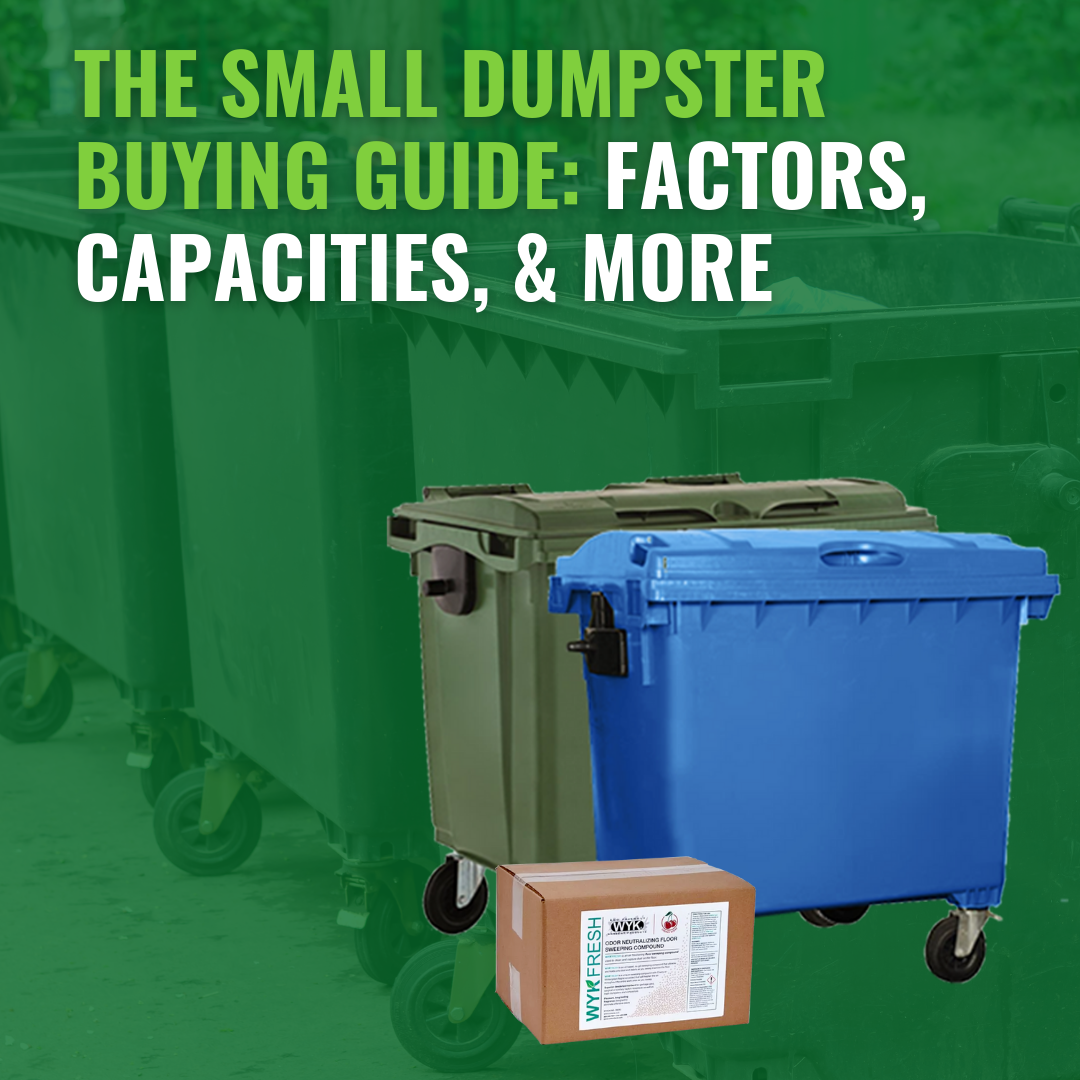 To find the right small dumpster for your business, you'll need to consider factors like capacity, mobility, and material. In this guide, we'll introduce some of the most important considerations to help you make an educated decision.
Choosing a Capacity for a Small Dumpster
To keep your operation running, you'll need waste management products that meet your facility's needs (though as we'll discuss, capacity isn't the only factor that plays a role). While there isn't an official definition of a "small dumpster," most suppliers consider anything under 2 yards to be "small" for commercial purposes.
Here's a quick overview of the most popular dumpster capacities in this range:
2-Yard Dumpsters - A common dumpster capacity for small- to mid-sized businesses. A 2-yard dumpster is capable of holding about 24 kitchen-sized trash bags.
5-Yard Dumpsters - Capable of holding about 18 kitchen-sized trash bags. Ideal in applications with significant waste management needs where space is limited.
3/4-Yard Dumpsters - Capable of holding about 9 kitchen-sized trash bags. These small dumpsters are most appropriate for mobile placement.
Buyers should also consider weight capacity when choosing a dumpster. Even if refuse will fit into the container, overloading can weaken materials over time. Solus Group offers small dumpsters capable of handling larger loads while offering long-term durability.
Recommended Products
JCO Plastic 1100-Liter Mobile Garbage Bins
Intended for heavy-duty waste collection and composting, these 1.5-yard dumpsters combine a large capacity with durable construction. An excellent option for commercial kitchens, distribution centers, parks, schools, offices, and multi-family housing units. 970 lbs (440 kg) capacity.
JCO Plastic 660-Liter Mobile Garbage Bins
Excellent for applications with limited space, these JCO Plastic's 3/4-yard dumpsters provide plenty of capacity with superior mobility. Both dumpsters have four replaceable casters (with 2 braked casters), attachment points for the optional tow hook, and multiple color options. 584 lbs (265 kg) capacity.
Read More
Industrial Trash Can Buying Guide
2-Yard Dumpsters for Workplace Waste Handling
Choosing Between Steel and Plastic Dumpsters
For decades, steel dumpsters were the standard for commercial waste handling. In recent years, however, plastic dumpsters have gained ground. That's largely due to improvements in design and material.
Modern plastic dumpsters use High Density Polyethylene, which offers comparable strength to all-steel units. Some reasons to consider plastic:
Plastic dumpsters are lightweight. Heavier dumpsters introduce ergonomic risks, and workers may need material handling equipment to reposition them. A 1.5-gallon steel dumpster can weigh upwards of 300 pounds, but an HDPE plastic dumpster weighs around 150.

Plastic dumpsters are quieter and cleaner. Emptying a metal dumpster results in metal-on-metal contact — in other words, it's extremely loud. As we've pointed out in other pieces (linked below), noisy dumping can annoy neighbors and workers. Many businesses switch to plastic to reduce this noise

HDPE plastic can also be cleaned easily, even when vandalized. That means improved long-term aesthetics — a crucial but often-overlooked consideration for any commercial enterprise.

Plastic dumpsters are often more durable. HDPE plastic doesn't corrode, and while it's susceptible to weathering in extreme conditions, manufacturers can limit the risk substantially by using manufacturing processes that limit imperfections. With proper manufacturing, HDPE plastic dumpsters offer better durability than steel with much less maintenance.
Finally, plastic dumpsters tend to be much less expensive than all-steel containers. For most commercial and industrial applications, plastic is clearly the better choice.
With that said, be sure to pay attention to weight capacities (discussed above) when purchasing. Some plastic products can't handle extremely large loads on a regular basis, which makes them inadequate for certain worksites. Manufacturer capacity ratings can provide insights. If your facility estimates a regular load at less than 100% of the rated capacity (for instance, 970 lbs for a 1.5-yard dumpster), HDPE plastic will be able to handle the job long-term.
Read More
Plastic Dumpsters for Facility Waste Management
Mobile Dumpsters: Features to Consider
Your waste handling needs are likely to change over time. If you're cleaning out an office or hosting an event, you may need to relocate your receptacles — and that means you need to make sure that your mobile dumpsters are actually mobile.
Look for containers with high-quality casters (including locking casters, which can act as an important safety feature). JCO Plastic bins have four replaceable casters with two braked casters, along with attachment points for an optional tow hook. These features allow the bins to be moved easily throughout a facility even when fully loaded.
Other factors to keep in mind:
Aesthetics - Waste color coding allows people to easily determine whether a certain item belongs in a certain bin, and personnel will pay attention to color coding (whether or not they think about it actively). Solus Group carries JCO plastic dumpsters with two color options (blue and green) to make outfitting easier.
Overall Footprint - In facilities with limited space, buyers need to consider the overall footprint of the unit. This is especially important if the dumpster will move throughout a facility. Solus Group's dumpsters and bins are designed to optimize space; overall width, length, and height can be found on each product's page.
Optional Features - Towing attachments and grab handles can improve your small dumpster's mobility. Look for units with heavy-duty lids, particularly if the container will be stored outdoors.
Read More
How A Small Dumpster On Wheels Can Help Your Business
Dumpster Sanitation: Deodorizing Your Small Dumpster
Both steel and plastic dumpsters need to be regularly deodorized, though the type of waste materials will determine the frequency of sanitization. Some chemicals may prematurely degrade small dumpsters, causing corrosion in metal dumpsters and weak points in plastic.
For best results, follow the manufacturer's recommendations. Deodorizing sorbents should be used regularly, particularly for wet waste applications.
Recommended Products
Fresh Cherry Scented Deodorizer Sorbent
Fresh Wintergreen Scented Deodorizer Sorbent
Solus Group's odor-controlling absorbents soak up 8 times their own weight, leaving behind a fresh scent. Intended for use on small dumpsters, garbage cans, and other waste receptacles, these highly absorbent fibers may also be used to freshen floors.
Material Handling Equipment for Ergonomic Waste Management
Never ignore ergonomics — especially when setting up a waste management schedule. A loaded receptacle can weigh hundreds of pounds, and manually emptying that load can raise a worker's risk of musculoskeletal injuries.
All personnel who lift heavy materials need to take appropriate precautions, particularly when emptying bins into dumpsters or emptying mobile dumpsters into other containers. For employers, the best course of action is to provide high-quality material handling equipment.
Bin Dumpers (also known as cart dumpers, bin lifters, bin tippers) can lift loads safely, removing an ergonomic hazard while improving efficiency. With hydraulic and manual options for receptacles of all sizes, Bin Dumpers are an excellent investment for all types of commercial applications.
Recommended Products
MegaDumper® Hydraulic Bin Dumper - The MegaDumper was originally designed for emptying 300 and 450 gallon (1135 and 1703 Liter) bins weighing up to 1,320 pounds (600 kilograms), but can be customized to tip almost any container including small dumpsters at heights beyond 23 feet (7 meters).The MegaDumper has a tip height of 23"-27.5", and custom models are available to meet virtually any application.
Dumpmaster® Hydraulic Bin Dumper - Dumpmaster Bin Dumpers can empty containers weighing up to 660 pounds (300 kilograms) at virtually any height. The tipping action of a Dumpmaster is one of the safest, most efficient, and easiest-to-use systems in the world. The Dumpmaster is the workhorse of the Simpro line and has been widely used in Australasia for the past 25 years.
Dumpmaster can lift most popular bin designs from 32 to 96 gallon (120 to 360 Liter) without needing adjustments. Custom cradles are available to suit other bin or drum sizes. The Dumpmaster is available with an adjustable tip height of 47"-71" or 71"-94.5".
Multi-Tip® Hydraulic Bin Dumper - The battery-powered Multi-Tip Bin Dumper suits popular bin sizes from 32 to 96 gallons (120 to 360 Liters). It quickly and safely empties a bin in less than 20 seconds. With a 330 pound (150 kilogram) capacity, this innovative bin dumper will prevent musculoskeletal injuries and allow staff to handle materials efficiently.
The Multi-Tip Bin Dumper is safe for indoor or outdoor use and has 5 inch (125 millimeter) casters (two with brakes) for optimal maneuverability. Features a tip height of 47"-71".
Dockmaster® Hydraulic Bin Dumper - The Dockmaster is based on the proven design of the Dumpmaster, but with unique features. The tipping mechanism inverts bins as low to the ground as possible, at just 27.5 inches (700 millimeters) while keeping the weight within the footprint of the machine. To allow operating near platform edges, the Dockmaster is fitted with safety feet, just behind the wheels. These catch the machine if it is rolled over the edge, instantly preventing further movement.
The Dockmaster is built to the same rugged specifications as the Dumpmaster, including the steel frame, powerpack, and control system. It will effortlessly tip most types of two-wheeled bins at weights up to 550 pounds (250 kilograms).
Ezi-MT® Manual Bin Dumper - Designed for low-volume, light-duty applications, the Ezi-MT is perfect for small businesses, schools, cafes, and offices. The economically priced Ezi-MT® Manual Bin Dumper takes the strain out of emptying bins, making this task safe and easy. A unique lift-and-tip action keeps bin weight within the footprint for greater stability.
A heavy-duty winch allows up to 143 pounds (65 kilograms) to be easily dumped without risk of strain or injury to staff. The lack of electrical and hydraulic parts means less service and upkeep costs. The Ezi-MT protects your staff at a minimal investment.
Virtually anyone can easily maneuver the Ezi-MT with its four durable casters, making this Bin Dumper even more versatile. The Ezi-MT suits 32- to 96-gallon (120- to 360-Liter) bins with no adjustment.
Read More
Waste Management Ergonomics for Commercial Buildings
Ergonomics in the Waste Handling Industry